William Ashley carries the finest selection of world renowned brands, like the Caroline Leather Case & Box Collection by WOLF. Their Zip Travel Jewellery Case includes quilted leather exterior, LusterLoc anti-tarnish lining, mirror, seven ring rolls, three necklace hooks and four compartments. 131 Bloor St. W., 416-964-2900
---
Mother's Day is the perfect time to celebrate how wonderful mom truly is! Show her how much you care with the ASQ Mother's Day Box. It is filled with 100% Natural Handmade Soap, 100% Natural Body Essential Oil and a Loofah. 2643 Yonge St., 647-729-4970
---
Surprise a deserving mother, grandmother, sister or aunt with a relaxing day of pampering that she will never forget. Book an AquaPeel Facial — this rejuvenating treatment is a non-invasive procedure that combines benefits of traditional facial with a deep cleanse protection and is designed for all skin types. 1689 Bayview Ave., 647-748-1419
---
Do you love classic cotton nightwear? Consider Hanro, the epitome of Swiss quality. The vision of quality can be found in every detail: the best materials, the perfection of the cuts and the exquisite finishing. This is what has made Hanro so unique and contemporary for 133 years. 2624 Yonge St., 416-481-2849
---
Beautiful birthstones are an expression of legacy and love that's as one-of-a-kind as the person who wears them. Varouj's designs are created using the finest of gemstones to suit every unique style, story and budget. Prices available upon request. 515 Eglinton Ave. W., 416-322-9775
---
Shaynee's Gift Selections carries one of the most extensive collection of Michael Aram in Toronto. The Black Orchid Collection was inspired by the sensuality of orchids and the rich ambiance of haute couture — strikingly simple yet full of the most extreme detail. Prices available upon request.
3501 Bathurst St., Toronto, 416-787-4497 | 441 Clark Ave. W., Thornhill, 905-709-0430
---
TONi PONS shoes are now available at Peppertree. A great variety of different styles and colours. Such an amazingly comfy shoe with a wide selection of sizes ranging from 5 to 11. Prices range from $120 – $155. 137 Main St. N., Markham, 905-294-3882
---
Spring! Mother's Day! You'll want to make it memorable. Visit Secrett Jewel Salon and choose from an exquisite collection. 162 Cumberland St., Toronto, 416-967-7500
---
The Marketplace offers a curated collection of beautiful products from a collective of local women entrepreneurs — perfect for Mother's Day. Working together to offer unique finds, this women's collective continues to pop up seasonally across the city and in Muskoka.
1260 Yonge St., Toronto – until May 11 | 2656 Yonge Sreet, Toronto – until June 30 
---
Why not give mom the gift of clean beauty? A beautifully wrapped gift card towards a private personalized makeup lesson or any of our makeup or aesthetic services! ­Explore their curated selection of clean and natural makeup, skin care, bath and body and life's little luxuries in-store or online. 1625 Bayview Ave., 416-322-5556
---
The Eglinton Grand is opening its doors for Mother's Day for an all-you-can-eat brunch buffet. Prepped by the venue's 5-star in-house catering team, expect nothing less than the top quality service and catering hundreds rave about in reviews. Buy your tickets online today. Adults are $49.95 + tax, children are half price.
400 Eglinton Ave. W., Toronto, 416-485-5900
---
This custom designed bespoke one carat marquise with calibre cut blue sapphires is an elegant example of their selection of estate and modern gems available in store. 284 King St. W., 416-260-9057
---
Legs Plus & Bra Boutique is dedicatied to educating women about fit, function and comfort. "Avero" is a Marie Jo classic, known for its Daisy straps. This spring "pearly pink" adds that femininity to your fashions. Like mother, like daughter. 5867 Leslie St., Toronto, 416-497-2350
---
Paola Di
Young & Blur, a husband and wife owned Canadian brand whose passion is designing and importing quality minimalistic jewelry! This necklace is handmade in Greece, 18k gold plated heart and sterling silver. Made with love and care.
3357 Yonge St., 416-322-0430, paoladi@rogers.com
---
Mother's Day never tasted so good with this Deluxe Olive Wood Salad Server gift set from Olive Oil Emporium. Each coupled with their most popular premium olive oil and balsamic vinegar. Both artisan, single estate and delicious.
1707 Bayview Ave., 416-902-9060 | 659 St. Clair Ave. W., 416-902-9060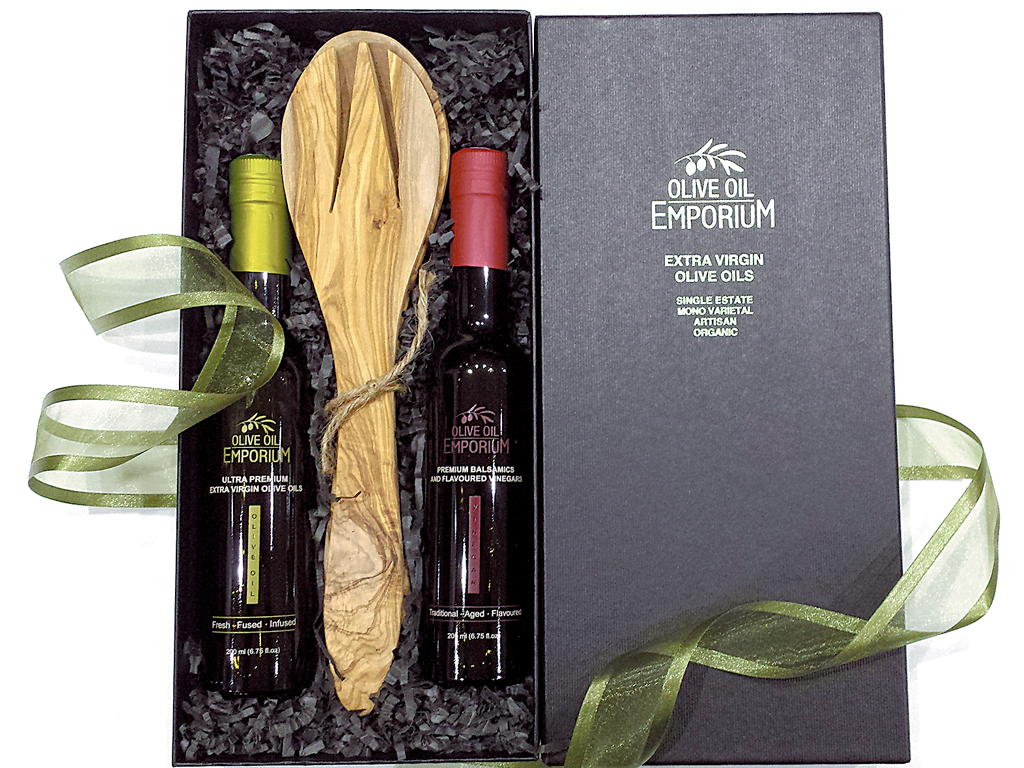 ---
Shun Premier offers the grace and beauty of hand-forged knives of old. Every blade is made of VG-MAX steel, clad with 34 layers on either side of stainless steel Damascus. Where the steels meet, a wavy line called a hamon is formed. Handcrafted in Japan. 158 Eglinton Ave. W., 416-482-7154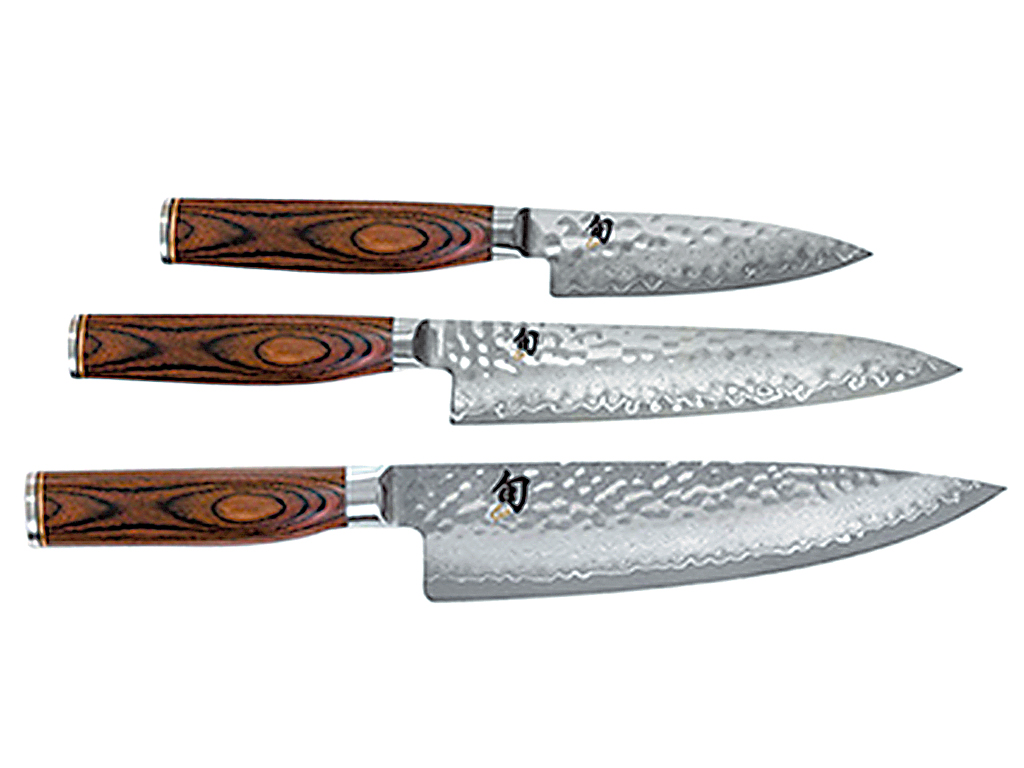 ---
Diamond studs are a timeless expression of love and beauty, and are the perfect gift to show mom you love her. Available in many sizes and price ranges, diamond stud earrings are the perfect accessory that will go with everything. 90 Eglinton Ave. E., 416-440-0123
---
Linea Intima has the perfect gift for Mother's Day! From lingerie to sleepwear in all the new spring colours we have you covered. You'll be sure to have the best gift for mom that she will love!
1925 Avenue Rd., 416-780-1726 | 2901 Bayview Ave., 416-221-9225 
---
I heart Mom T-shirts are back! Toddler, kid, youth and adult sizes. New this year, 'I heart Grandma' and 'I heart Bubbie'. Show Mom how much you care. Dress up the family and get ready to take the cutest photo ever! Visit them at one of four locations.
---
Say 'I love you' with this heart charm bracelet featuring links of love with a series of open hearts, lips, flowers, and crystal pink hearts — the perfect gift for mom or the loved ones in your life. 2554 Yonge St., 416-480-0040
---
An ideal, relaxing treatment before a special event. Oxygenating 3-in-1 facial combines exfoliation of the outer layer of the skin, infusion of revitalizing nutrients, and oxygenation of the skin from within. There is an immediate improvement in skin tone, texture and radiance. Price upon request.
1849 Yonge St., Suite 307, 416-483-4541 
---
Matsu carries handmade karat gold and sterling silver jewellery from metalsmiths across Canada and the US. Mother's Day sale 20-50% off on in stock items only. This sale is not applicable to custom work or special orders. In store sale 20-50% off April 27- May 11. 9 Castlefield Ave., 416-487-6345
---
"Where all is ever so perfect, because nothing needs to be". Kinder-arT transforms a child's drawing into a luxurious silk handmade scarf. Kinder-arT is a wonderful gift for a parent, grandparent, or someone special. Forever loved! Starting price $400. 416-906-2302 @mad_dash_yorkville
---
Give mom the gift of time. Signa's expert technicians offer convenient in- home services. Contact them for Wi-Fi speed boosting, printer repairs, new computer setups, universal remotes, phones, and more. Mention MAY25 to save $25 off in-home service for May. 3457 Yonge St. (S. of Loblaws), 416-488-9208