The cottage at 3 Fairholm Island has come a long way since its humble beginnings as a dry-slip boathouse in the 1900s. The close proximity to the water make this historic property unique and one that can never be replicated again.
Located within the historic Millionaire's Row area of Beaumaris on Lake Muskoka, the island itself was originally bought by Pittsburgh residents in 1900 and eventually divided into three during the 1920s. The future buyers of 3 Fairholm will be just the third family to own this property since the original owners and its descendants called it home.
The five bedroom and three bathroom cottage has 4,460 square feet of interior living space. The main cottage is unique as it is partly built over the water. Outside, the future owners can enjoy 1.7 acres of land and a whopping 800 feet of shoreline on Lake Muskoka. It's just half a kilometre boat ride from Mills Rd. Landing and is listed for a fitting $4.795 million.
It also features a 3,000 square foot private guest cottage!
White walls, flooring and ceilings open up the living room. Glass doors provide unobstructed views of the water. Some of the doors feature the original glass from the period.
The dining area has enough space for a 12-person table, which is ideal for large get togethers.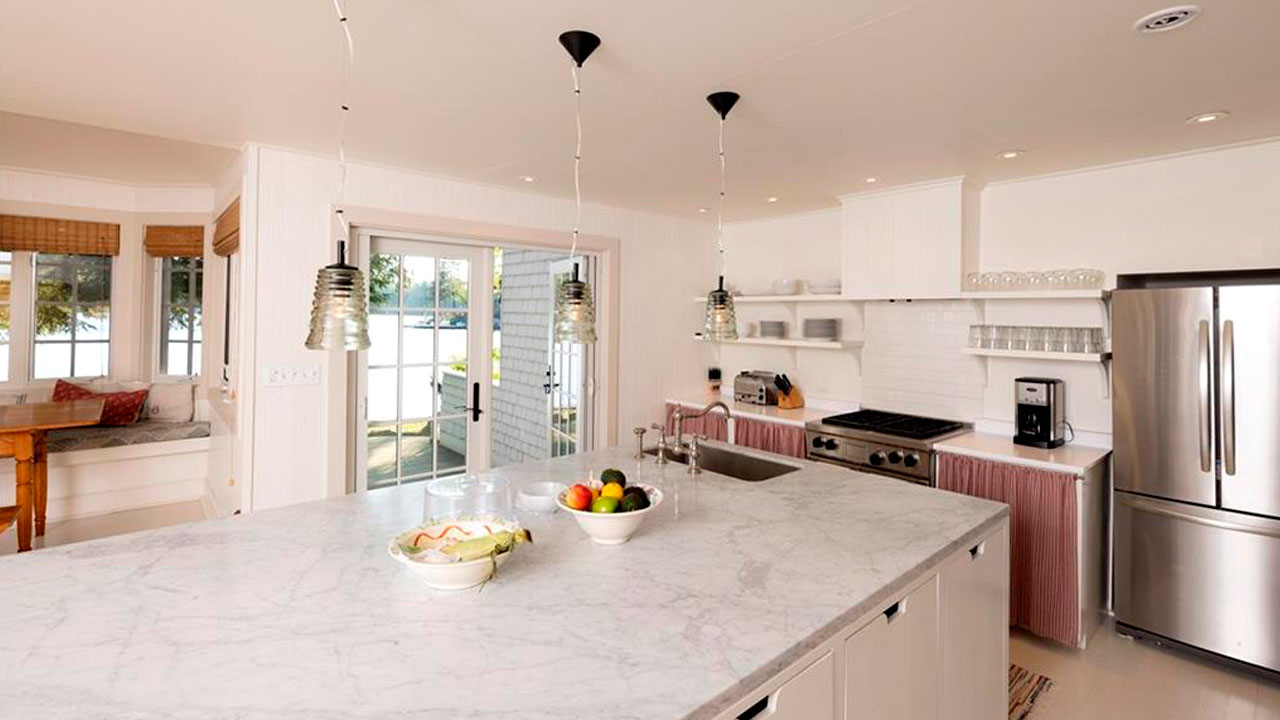 After going through a remodel, the eat-in kitchen is ready for entertaining. It's designed with custom cabinetry, a massive island and modern appliances.
It also comes with a lakeside breakfast nook.
The perfect spot on the water for cocktails with sunset views.
Many of the bedrooms are designed with beachy pastels and white finishes. Four of the five bedrooms face the water and have their own screened sleeping porch, where you can hear the water hitting the shore.
This bathroom has a soaker bathtub.
There's plenty of space to enjoy both sunny and rainy days under the covered porch. It wraps around the cottage and provides close up views of the water.
It leads to an uncovered area that's perfect for barbecuing, dining and soaking in the sun.
This property is a rare find. Its boathouse was originally a single-slip but was upgraded in the 90s to its luxe three-slip status.
3 Fairholm Island is listed with Gord Waites and Tracy Tennant of Johnston & Daniel Rushbrooke Realty, Brokerage, Port Carling.