Situated just off Bay Street near Bloor, 77 Charles St. W. provides the best of both worlds. With quick access to both the craziness of the downtown core and the (relative) serenity of Yorkville, this Yann Weymouth-designed condo is tough to beat.
On top of the excellent location, this two-bedroom, two-bathroom unit comes complete with 10-foot ceilings, unfettered skyline views, 24/7 valet and concierge and 2,500 square feet of indoor/outdoor living space. Let's take a look inside this $3.495 million beauty.
As a one-way stretch of pavement that runs from Jarvis Street to Queen's Park, Charles St. W is as quiet a street as you'll find in the downtown core.
With ample natural light and an open-concept floorplan, the main living space leaves nothing to be desired.
You'll want to sit on a certain side of the table in the dining area, as a pretty inspiring view of the CN Tower awaits whoever gets the lucky seats.
If you don't get the coveted spots, fear not, as a quick trip to the balcony will give you all the Instagram-worthy photo-ops that you could ask for.
After you're done watching the sun set over the city's high-rises, retire to the living room for a little relaxation, with a walk-out to the terrace.
The outdoor living area at 77 Charles St. W. is the stuff of dreams. The balcony includes space for a cabana, along with a fireplace and a barbecue.
Believe it or not, there's a kitchen somewhere within all this marble. The stone makes for a chic, stand-out design that is accentuated by stainless steel appliances.
The theme of marble continues into one of the bathroom, only the colours are reversed. Black marble with white veins adorns the walls of the walk-in shower.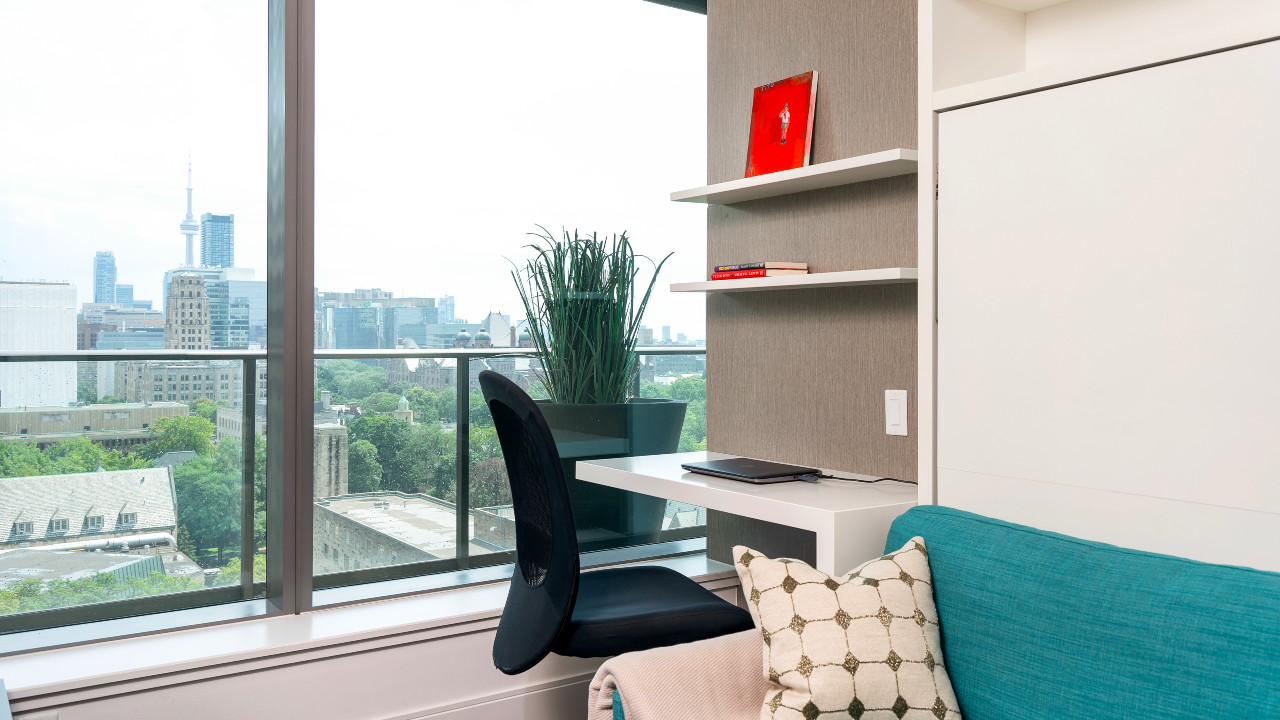 If you're looking for an office with a view, it doesn't get much better than this. The second bedroom can be transformed into the perfect workspace or lounge area.
The primary bedroom features walk-in closets and a walk-out to the balcony.
The ensuite bathroom also features a walk-in shower and a mirror the size of The Yorkville Rock.
77 Charles St. W is listed for $3,495,000 with Donna Thompson of Harvey Kalles Real Estate Ltd.