Just weeks before Leah Taylor and Matthew Vendittelli's wedding, planned for early December of 2020, Toronto announced it would be going into lockdown, and York Region would quickly follow suit. For Taylor, this meant her wedding dress, which was still being shipped to her, wouldn't be able to be altered when it arrived. It also meant their wedding would have to become something very different from their plans; lockdown would only allow a maximum of 10 people at their wedding, including themselves.
Since planning the wedding in February 2020, Taylor and Vendittelli had changed their plans for their wedding day so many times that they had lost count. What originally would have been an "intimate" Italian wedding of more than 200 guests became a 20-person winter reception, in a tent on Taylor's parents' driveway.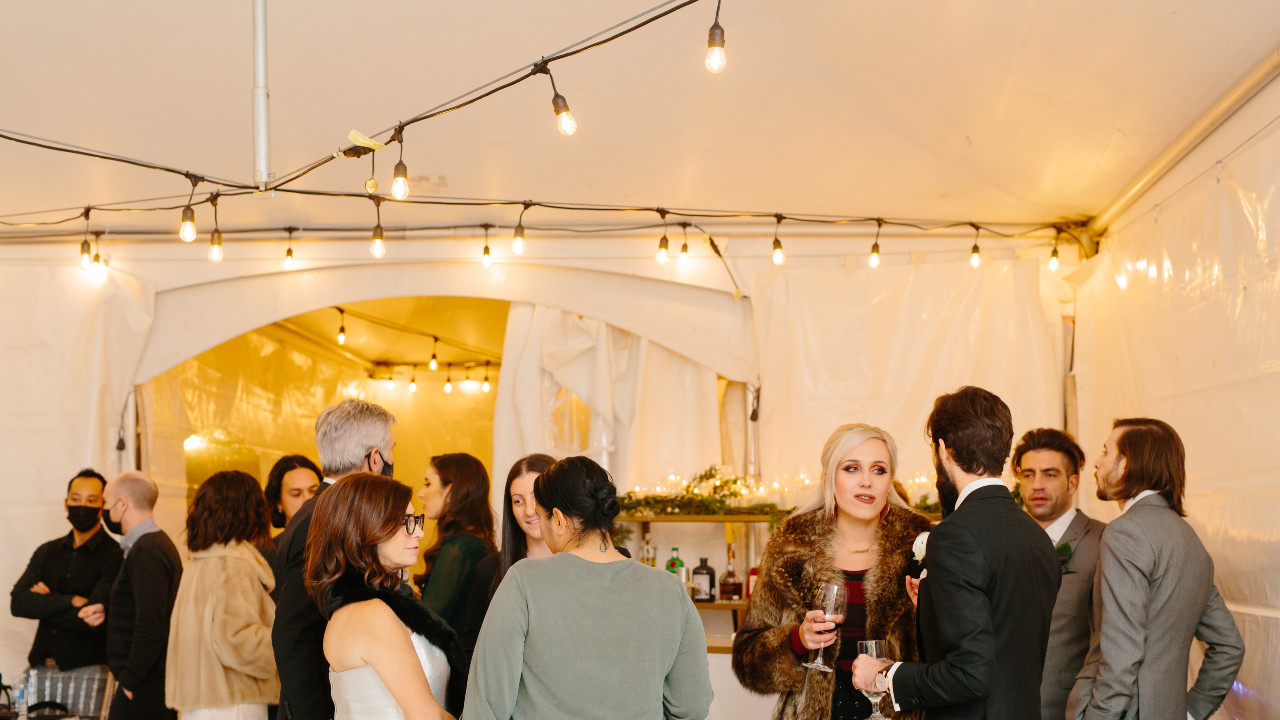 But the pair knew what they were getting into with a pandemic wedding, and when the news of the second lockdown was announced, they knew what they had to do. They decided almost on the spot to move their wedding up two weeks, and Taylor went on a hunt for a new wedding dress that would be ready in time for their new big day.
There's really no industry the COVID-19 pandemic hasn't touched, be it retail, restaurants, bars or travel. And that list extends to weddings, an industry that encompasses everything from fashion to event design. After months of lockdowns, gathering restrictions and bans on in-store shopping, the pandemic may have changed the way people are viewing weddings as a whole, and in turn, the approach they take with wedding style.
Brides are turning to simplicity and comfort for wedding dresses
"I believe the pandemic has really changed the whole idea of what a wedding celebration should be. Brides are focusing more on what actually matters, which is the actual marriage between them and the love of their lives," says Madison Vartanian, store manager at Blu Ivory Bridal in Toronto's St. Clair West neighbourhood. She adds that weddings have become less about the 'show' and 'production,' and more about the love itself.
Due to this, she explains, most brides are more comfortable with the idea of a simpler wedding gown. Jessica Auvray, lead planner and creative director at Bisous Events, agrees. "Since the pandemic, bridal gowns and the wedding party attire have become less formal. Rather than a big dress or multiple dresses, it's about having it fit the smaller wedding settings," she notes.
In addition to leaning towards more pared down and comfortable styles, Auvray also notes that some brides are ditching tradition altogether. "I have seen brides wear dresses that aren't even considered bridal gowns and go jumpsuits or a simpler off-the-rack dress," she says. "Honestly, I really love this trend towards something that could be worn again and being more comfortable for the couple and their attendees."
For Taylor, a simpler wedding gown was a matter of necessity. She went to LoversLand on Ossington to search through what they had off the rack to make sure it could be ready in time for their accelerated wedding timeline, and it was there she found a dress she loved. "The dress I wore, it wasn't a wedding dress, it was a cocktail dress," Taylor says. "I wouldn't have thought to think outside the box and put myself in a dress like that if I hadn't been under the gun. It's those little things that I think made our day and our experience so unique."
Vartanian adds that brides are gravitating towards gowns that suit the look of more minimalist, intimate ceremonies. "Gowns that don't have much beading and lace are very on-trend right now. We also have many brides requesting shorter trains and more comfortable fabrics," she says.
Intimate ceremonies with attention to detail
In terms of the overall look and feel of the ceremony itself, Auvray is seeing shifts towards simplicity for pandemic weddings, adding that some couples may opt to not have a wedding party since that makes up most of the guest count anyway. "If you're going from a lavish 200-guest count wedding to a backyard affair, it is natural that the attire won't be as formal," she explains.
Taylor says that their wedding being as small as it was allowed her and Vendittelli to be able to put their budget and their focus towards more intricate details throughout the wedding planning.
"We spent time selecting what alcohol we were going to buy and creating signature cocktails," she says. "We were able to include Matthew's dad's favourite drink and my sister's favourite drink."
Taylor says that the experience of having a pandemic wedding has taught her a lot about what is really important to her. "We had to be really fluid and make some sacrifices without losing the essence of what we wanted the day to be," she says.
Vendittelli says they definitely accomplished that. "We always said that it was more about our guests and the people we wanted to celebrate with, rather than us being the focal point," he says. "And we can recount that day to you from the moment we woke up to the moment we went to bed, and we had meaningful conversations with literally everybody there, including the waitstaff that we hired."
In the end though, everyone planning a wedding will go about it differently, and some may still want something more formal or traditional. "Don't get me wrong, we still believe a bride should wear what she has always dreamt of," says Vartanian. "If that means wearing a giant, princess ball gown for a courthouse wedding, we are all for it!"