We've rounded up four dishes that are making Toronto diners lose their cool because they're hot hot hot. Queues be damned — these plates are definitely worth the wait.
Prosperity jerk lobster at Patois
"We tried to take this dish off the menu, and diners revolted. We go through about 60 of these a week," says Craig Wong, whose Dundas West kitchen is all about mashing cultures together through their cuisines.
The prosperity jerk lobster is the finest example of Wong's cooking.
"We wanted to give wok-style fried lobster a kick in our own way, mixing Chinese and Jamaican influences," Wong says.
For the dish, the kitchen starts off by boiling whole lobsters in a court bouillon. The crustaceans are then cleaned and chopped up before they're tossed in a wok along with Jamaican jerk paste (anchored by Scotch bonnets, fresh thyme, pimento, ginger and soy sauce) and sweet peppers. Sprigs of cilantro and wedges of lime finish off the dish, which is totally unique, upscale comfort food.
794 Dundas St. W., 647-350-8999, $45 for one or $88 for two
Dough pops at The Rolling Pin
Move the cronut and crookie over, this is the mother of all pastry mash-ups. Co-owner and baker Vanessa Baudanza's midtown bakery maintains cult-like lines for her over-the-top gourmet doughnuts and Pop-Tarts. Recently she's been working on bringing the two treats together into one epic Franken-tart.
Baudanza stuffs a whole Pop-Tart into a doughnut (well, really enough dough for three), coats it in icing and dresses it with an array of toppings.
Current flavour combos include peanut butter and jelly (which gets a PB drizzle and a sprinkling of crushed peanuts) and an apple-cinnamon-caramel creation (which comes tarted up with a cinnamon glaze, vanilla whipped cream and shots of caramel). The indulgent dessert ends up being soft on the outside and crunchy on the inside — the best of
both worlds.
3429 Yonge St., 416-691-4554, $12.95 (feeds three)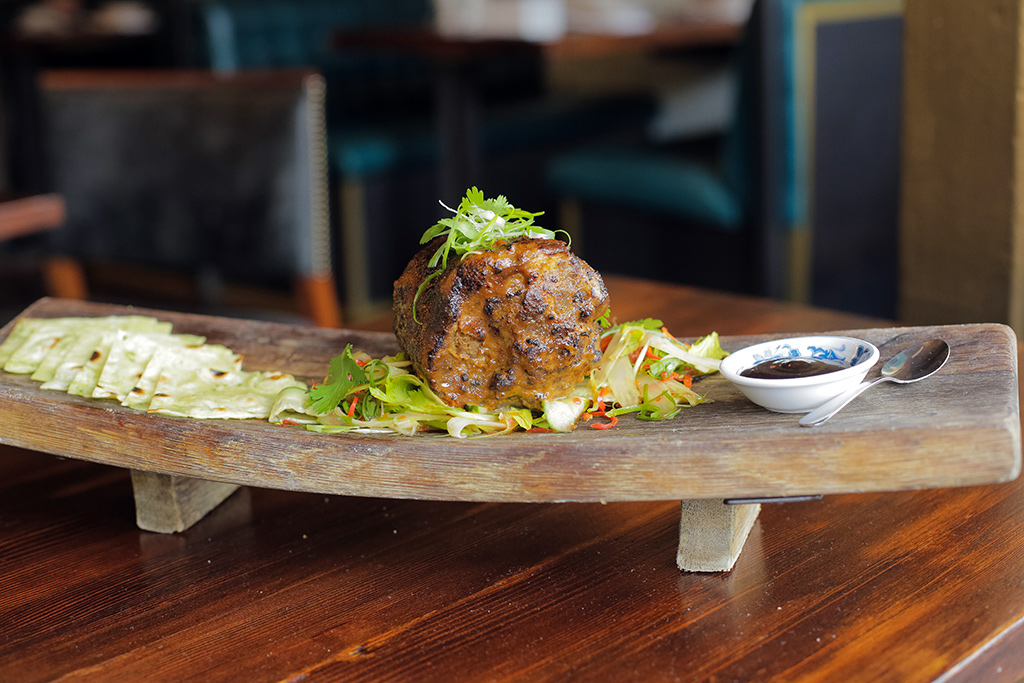 Mongolian grilled lamb neck at Dailo
"I wanted to riff on roast Mongolian lamb with this dish,"says chef Nick Liu. "We launched it during the summer months and couldn't take it off the menu — it's one of our most popular items."
Traditionally, a whole lamb, spiced with chili and cumin, is roasted and served at feasts in lettuce cups. At DaiLo, Liu's interpretation sees Ontario lamb neck rubbed with a blend of spices: star anise, cumin and Szechuan peppercorn. It's slow cooked for a full 12 hours, rubbed once more with spices and then grilled to finish. Liu has achieved perfection with this cooking: the meat is succulent and fall-off-the-bone. It comes with scallion pancakes, a cuke, Asian quick-pickled celery and hoisin sauce.
As for how to eat it, chef explains: "Grab a pancake and load it up with meat and sauces."
503 College St., 647-341-8882, $29
Skate with corn and mushrooms at Bar Raval
Foodies are fighting over plates of this dish at Bar Raval, Grant van Gameren's incredibly popular pintxo bar. An ode to seafood tapas commonly found in Spain's southern regions, van Gameren's fishy take features New Bedford skate.
The fish is cooked a la plancha (griddled on a metal plate) and served on a bed of sliced button mushrooms. Golden kernels of corn, which have been cooked in brown butter, are then strewn across the protein, resulting in a dish that's simple and extremely well-executed. Each creamy, tender bite is accented with hits of acidity, which come courtesy of sherry vinegar and fresh lemon juice. Sample this once and you're guaranteed to be a repeat offender.
505 College St., $12