Running season is in full swing, and there are still plenty of races coming up in the Toronto area over the next few months that will test your mettle on the road, trail or obstacle course. Running requires less gear than most sports, but the right shoe is something you definitely don't want to skimp on.
Whether you are lacing up for the MEC Toronto Road Race Five, Mud Hero North Toronto, the RBC Race for the Kids or the classic Terry Fox Run there is a runner that will help get you across the finish line. Maybe the Canada Beer Run is a little more your speed than Scotiabank Toronto Waterfront Marathon?
Whatever your pace and goals, here are some of the latest and greatest running footwear choices to help you do you (with the right shoe, of course).
Nike Zoom Vaporfly 4% ($330) and Nike Zoom Fly ($200)
If you've been anywhere around Toronto in the past couple of years, between the running clubs and the billboards, it's hard to miss how serious Nike is about running these days. With the Nike Zoom Vaporfly 4%, they just upped the ante when it comes to a race day shoe.
These shoes were specifically designed to help experienced runners (we're talking marathoners) beat the clock. Featuring Nike's new proprietary ZoomX foam that is ultra-lightweight and soft, this unisex shoe is designed to provide an up to 85-percent energy return. There is also an embedded curved carbon fibre plate to increase the sensation of propulsion. All of this adds up to an average of 4-percent improvement in running economy compared to previous Nike models.
If you're looking for a (slightly) less spendy option, The Nike Zoom Fly (in separate women's and men's models this time) will do the trick. The Zoom Fly is a more durable, weightier (248 g vs 184 g in a men's size 9) every day shoe, minus the ZoomX foam and a few other details, while looking quite similar. Both options are winning rave reviews from seasoned runners for their powerful, propulsive feel.
Nike Zoom Vaporfly 4% available online, Nike Zoom Fly available at the Nike Store Eaton Centre and online).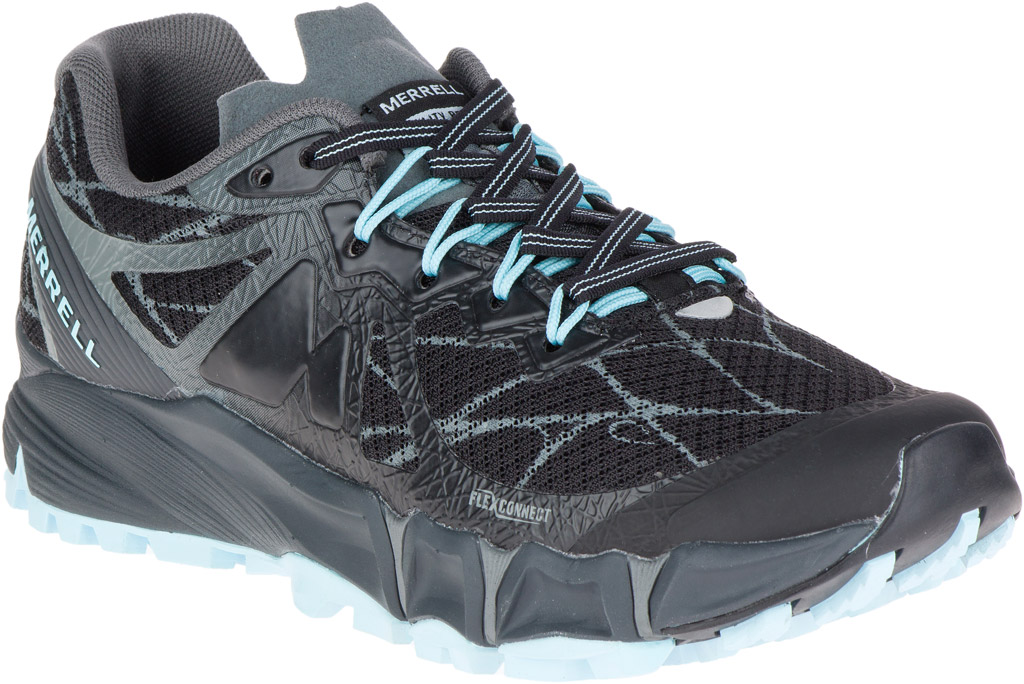 Merrell Agility Peak Flex ($160)
Off-road runners need a shoe that can keep up with the demands of a tough course. This trail runner (for men or women) with FLEXconnect cushions, flexes and protects for agility to excel on long runs and rugged terrain.
A lot of thought has gone into how this shoe performs – plenty of stability, reflective details for increased visibility in low light, Merrell Omni-Fit lacing system provides a precise fit, a molded TPU heel counter that stays snug during sharp turns and quick descents, and let's not forget about the built in antimicrobial agents that reduce shoe odor and keep things fresher, longer.
Available at Mountain Equipment Co-Op Downtown or North York or online.
Saucony Ride 10 ($159.99)
This tenth edition of Saucony's go-to neutral ride runner further innovates what has become a go-to neutral ride shoe for many. If maximum stability isn't a priority for your feet, then the Ride 10 provides a ton of comfort at a reasonable price. Both the men's and women's models provide details that help you go the distance, such as engineered mesh upper for a lightweight fit, woven heel piece for structure and support, EVERUN Topsole construction for enhanced energy return, and an updated outsole design for the optimal blend of flexibility and protection.
Available at The Running Room Rosedale (or online) and at Black Toe Running.
New Balance FuelCell ($209.99)
You'll definitely get noticed for the look of these sleek new Newbies, available in this rather 80s throwback combo of Alpha Pink and Lime Glo for women and Bolt with Energy Lime for men. But what you'll notice is the FuelCell's "nitrogen-fueled" performance foam to provide maximum cushioning for a powerful launch every step of the way. Perfect for road or track, these are a neutral shoe with no-sew application and an upper that allows for greater flexibility and optimize speed.
Available at several Toronto New Balance locations (or online) and at Black Toe Running.