One of C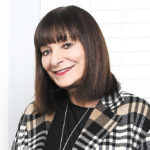 anada's most trusted authorities on style and fashion, Jeanne Beker has covered the industry for more than 30 years. Now watch her in her current style editor role on TSC's Style Matters with Jeanne Beker or tune into her new podcast Beyond Style Matters, available wherever you get your podcasts.
---
With Earth Day on April 22, what better time to highlight the local companies embracing slow fashion with ethical sourcing, sustainable materials and local labour. So we asked Jeanne Beker to pick the perfect items for your spring wardrobe that are also eco-conscious.
A) Hello yellow
"This yellow colour, I love it so much. It's so sunny and optimistic. This jumpsuit is a great little summer uniform." BirdsofNorthAmerica.com, $174
Birds of North America is a Toronto-based womenswear brand with all pieces made in Canada. 
B) Pastel prints
"I love this dress. It has a beautiful print in nice pastel colours. It's an attention-grabbing dress, it's really feminine, and I like the full skirt." KaelaKay.com, $249
Kaela Kay clothing is produced in Toronto by local seamstresses and offers inclusive sizing. 
C) Retro cords
"I love these cord pants with the sailor buttons. They're funky, high-waisted bell-bottoms with a real '70s vibe to them." HilaryMacMillan.com, $195
Hilary MacMillan is a Canadian designer who offers cruelty-free and size inclusive womenswear. 
D) Rubber to road
"I love these red boots that are made from fairly traded natural rubber, and I adore the little sporty chevron lines — a salute to the athleisure trend." AliceandWhittles.com, $48
Alice and Whittles is a Toronto-based footwear company focused on sustainability. All footwear is virgin plastic free and the rubber is from sustainably-managed forests. 
E) Lavender lookers
"These sunglasses are 100 per cent biodegradable, which is quite shocking. I love the retro styling, and this lavender colour makes it look summery." Shambhalaclothing.ca, $84.50
Shambhala Clothing is a Canadian-owned and operated eco-lifestyle shop in Vernon, B.C. specializing in fair trade and handmade products that emphasize sustainability and social responsibility. 
F) Make me blush
"This pale pink blush is a very big colour for the season. It's a vegan leather, and the lining is made from recycled plastic bottles. I really love the design of this clutch." Elahandbags.com, $88
Ela Handbags is a Toronto-based accessories brand that only uses cruelty-free vegan materials. 
G) Mock croc
"I love this mini croc in mustard. It really lifts a wardrobe in a big way. I love the look of this mock croc. You can dress it up or down." AiTorontoSeoul.ca, $150
Ai Toronto Seoul is a Toronto-based accessories brand with all products made by artisans in a small shop in Seoul, South Korea. All products are made in small batches from the highest quality PETA-approved vegan leather and all hardware is sourced in Korea. 

H) Chic anorak
"This peachy windbreaker has a nice sheen to it. It looks very feminine and practical, a great jacket you can just grab and go." Noize.com, $180
Noize is a Montreal-based outerwear brand that uses recycled fill, recycled plastic, vegan leather, vegan fur and vegan wool to ensure its pieces are cruelty-free and environmentally sustainable. 
I) Flashdance flashback
"These little leg warmers really take you back to the '80s. There's something really fun about them, and they just add an extra touch of pizzazz to your workout wear." Encircled.ca, $52
Encircled is a made-in-Toronto slow fashion brand that uses sustainably-sourced fabric and it is a Certified B Corp. 
J) Ready to reverse
"I love that this hoodie is reversible, a great way to get more bang for your buck. And this mustard colour is all the rage right now." Kotn.com, $69
Kotn's products are made with sustainably-sourced organic cotton at farms with ethical labour practices. The company also funds a number of social impact projects.