Laissez Faire, a new venture from the team behind the popular King and Portland pub, Locals Only, has ambitions of offering a new standard of dining to the regular Financial District fare of super-casual happy hour pubs and bars, and tony white tablecloth dining rooms. Their approach: Meeting both of these evening stops in the middle.
"Toronto's always been a two-stop town," says co-founder Jonathan Condren. "You go here for dinner, and then you go here for drinks. Whereas, in Europe, or different countries, you'll usually go somewhere for dinner and you'll usually stay until late."
The porcini truffle arancini ($13) is made with risotto cooked in a mushroom sauced finished with truffle paste and bound around a cube of mozzarella in a simple tomato sauce
The space, which sits above Locals Only, was designed to fit that dinner-to-late crowd. Their large King Street-facing window invites sunlight into its airy and bucolic French-inspired dining room, while comfortably dispersed table tops are brought to bar-top height to facilitate eye contact between servers and patrons.
The menu also reflects this hybrid approach. Chef Zachary Barnes, whose resume boasts time at Michelin-starred restaurants such as Restaurant Gordon Ramsay in the U.K. and New York's DANIEL, as well as Alo, has created a menu of French and Italian-inspired dishes, each finessed to be ultra-sharable and many of them well-suited to plant-based and vegetarian diners.
"What we wanted to do was almost give people the greatest hits, and to give people as much of a well-rounded menu as possible," says Condren.
The cauliflower steak ($18) is steamed with kombu, finished with paprika, chimichurri and fines herbes, on a romesco sauce made with roasted red pepper
The beetroot tartare ($14), for example, is a play on classic beef tartare, on a base of horseradish crème fraîche and roasted beets, its shape and flavour reinforced with beet purée on a bed of arugula salad served alongside fat tubes of bread crisps.
"We did it in our own way, and it has really been the highlight of our menu," says Condren.
Another classic dish, tastefully executed is the squid ink tagliatelle ($21), a slick and buttery heap of obsidian black noodles that are made fresh every other day, cooked in garlic, clam juice and white wine, and studded with clams, mussels and shrimp. The result is a velvety and remarkable homey plate that you may just want to keep for yourself.
Of course, sips and small bites are encouraged, too. Their cocktail program, designed by bar manager Marko Mavra, comprises a list of barroom staples, like your classic espresso martinis and old fashioneds (each $13), as well as a tight list of refreshing house cocktails. The watermelon picanté ($14) in particular offers up a summery combination of fresh watermelon and tequila blanco, finished with a jalapeño edge.
Rounding out the meal is the brioche panna cotta ($11), a dessert perfectly suited for spring: light and creamy,  with slivers of plum and brioche crumble lending an earthy warmth, it is served alongside a light apricot sauce.
Another unique feature of Laissez Faire is the chef's table in the back, where Chef will get to flex his fine dining chops three nights a week for an exclusive table of six people with an eight-course tasting menu.
But the rest of the time, Laissez Faire is true to its name: A laid back approach that encourages lingering and letting go.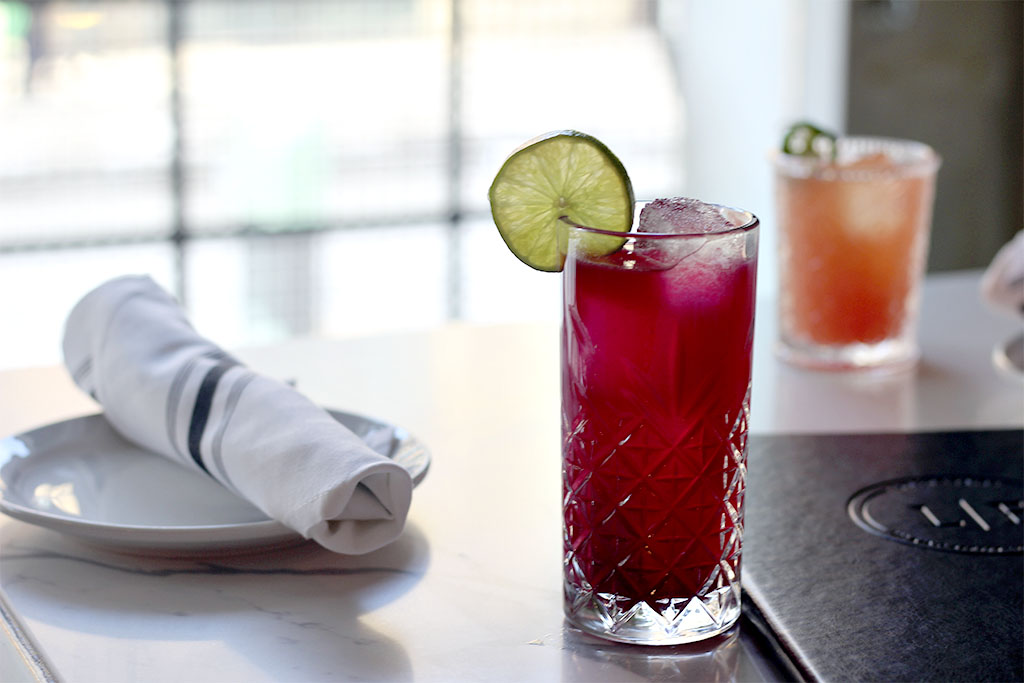 The beetroot mule ($14) punches up a traditional Moscow mule with a hit of beet and fresh ginger instead of ginger beer
Laissez Faire, 589 King St. W., 647-508-5088