For seven nights only, Kyoto-based chef Ryusuke Nakagawa will take over the kitchen at Miku restaurant in Toronto. His 15-course dinner menu showcases seasonal ingredients, artistic plating, textures, and temperatures all incorporated into his contemporary take on the traditional Japanese dinner of Kyo-Kaiseki (or Kaiseki).
Chef Nakagawa is no newcomer to the Kaiseki scene, before coming to Toronto he studied under Michelin-starred chef Yoshihiro Murata while working at his three-Michelin-starred restaurant in Kyoto, Japan.
For a limited time, chef Nakagawa brings his 15 years of experience to Miku's Kaisen Bar, located in the middle of the restaurant. Only six seatings take place per evening at the counter. Five chefs, including chef Nakagawa, masterfully assemble and plate course-after-course in an open kitchen, no bigger than a double walk-in closet.
THE FOOD
The Kaiseki dinner is set in Omakase style — the Japanese tradition of giving the chef full creative freedom to choose your order. Picky eaters, this isn't for you.
Guests will find dashi throughout many of the courses. The strong umami flavoured broth is a traditional Japanese cooking stock most commonly known as the base for miso soup. Chef Nakagawa has mastered the skill of balancing the dashi flavour, not only on the individual plates, but across the entire menu. 
Soy-dashi ō-toro EdoPrime nigiri comes out first and is essentially next-level nigiri. No soy sauce, ginger, wasabi or chopsticks on the side. Enjoy this dish by hand.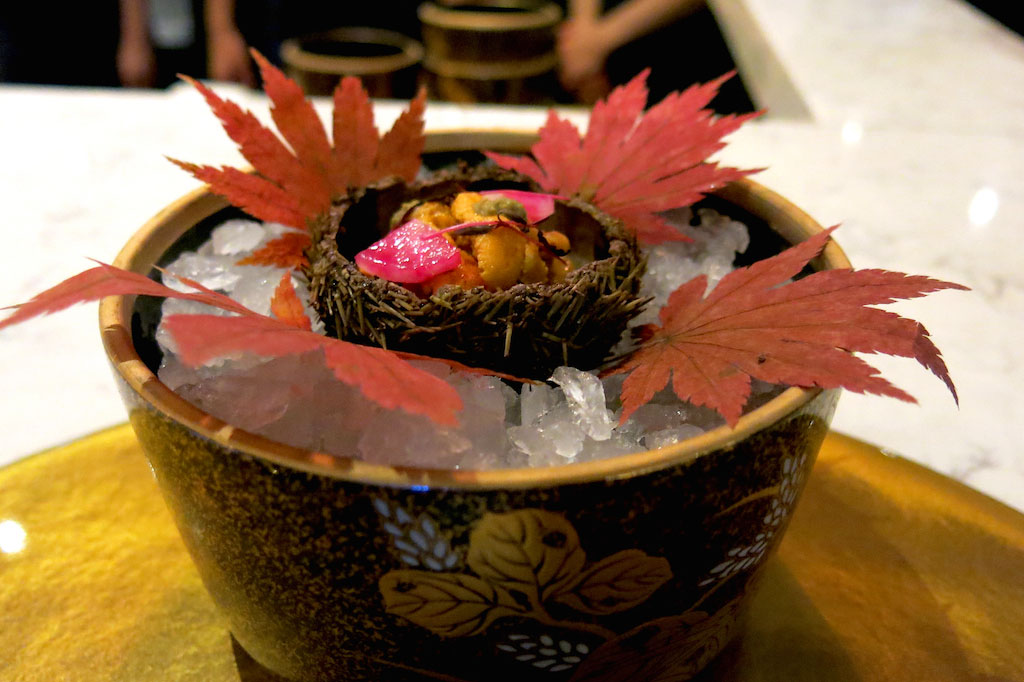 The chef's uni has a lot going on. This dish comes complete with oyster mousse and kohlrabi. There is the expected creaminess of the fresh uni, and then the acidic, yet sweet flavour from the red shiso dashi and the akazu shari. 
The lobster tempura is deep-fried and battered, but still comes across as light, fresh and firm. The tempura sits on a bed of yuba and miso kelp cream, covered in matcha crisps and a proper shaving of black truffle.
Hamo owan is an eel clam soup with a matsutake mushroom. The hamo serves its purpose for texture, but the broth is the star of this Kaiseki dish.
The sous-vide Miyazaki wagyu (Miyazakigyu) tenderloin comes with three optional pastes: black garlic miso, wasabi and roasted apples. It's best to leave the pastes as decoration, as it's perfect on its own or with a little rock salt. 
Dashi poached kuruma-ebi EdoPrime nigiri is a Japanese tiger prawn. It is expertly filleted, brushed with miso soy, lemon oil, layered with okra gelée and a dusting of prawn powder.
Wasanbon ice cream is made with a fine-grained Japanese sugar, and is less sweet than a traditional powdered sugar. On the side is a black sugar, jelly-like dome to pour over the ice cream. It tastes similar to molasses, but thinner and milder. 
To celebrate its fourth anniversary, Miku has designed an additional Anniversary Kaiseki tasting available until the end of the month. This menu features confit Wagyu short ribs, Miku's signature aburi sushi, octopus carpaccio and so much more. There's an optional sake pairing to complete the experience as well.
If you're on the market to splurge, the Kyo-Kaiseki experience is certainly worth it. But if you're looking for a multi-course, limited-time experience with a more sensible price tag, go for the Anniversary Kaiseki. Both tastings will impress your tastebuds and leave you in a mini food coma.
The Kyo-Kaiseki experience is open now until Oct. 25, but don't worry if you can't make it, the Anniversary Kaiseki is on until the end of the month.