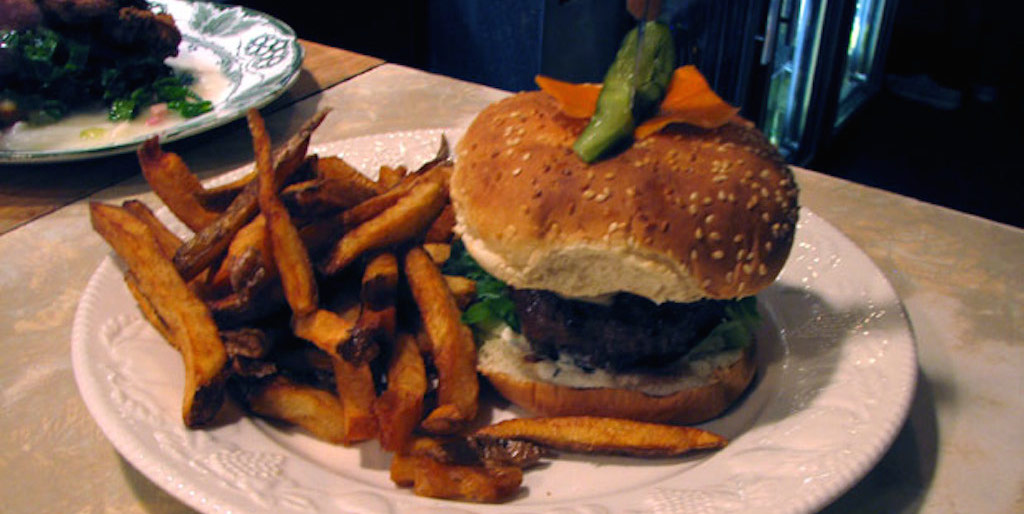 The Ace
231A Roncesvalles Ave,
Toronto, ON M6R 2L6
Categories
About the Restaurant
The Ace is the kind of joint that pulls you in with its history. First established as a business in 1914, co-owner Maggie Ruhl let us know that its initial incarnation was most likely a shop hawking girdles. Surprisingly, the fit wasn't perfect.
After numerous rebirths (including stints as a music shop and a mechanic storeroom), the spot became The Ace Diner before a Mr. Lee snapped it up in 1956, altering the moniker to Ace Restaurant. When Ruhl — who also co-owns a little place called The Dakota Tavern — heard about the space, she wasn't even on the hunt, but found it impossible to resist its charms.
Ruhl is intent on maintaining a mellow vibe, with jazzy trumpet notes wafting over the diners as they mow down. Dinner is served until 11 p.m., but drinks and snacks keep the place going until 2 a.m., perfect for winter nights when barhopping has lost its summertime appeal. The original layout of the diner has been kept intact, with the booths being spruced up and the wallpaper — featuring ancient Chinese imagery that could have come straight off a 16th century vase — receiving quite the scrub-down. Adding to the allure of the place is the mishmash of vintage dinnerware that Ruhl's parents collected from garage sales and antique shops around the Lake Huron area.
The Ace's menu itself, created by chef Peter McKnight (Smith, Black Skirt), features a smattering of rustic, seasonal dishes with some down home appeal and a bit of a French twist. Daily specials are also on offer: when we popped in, they were serving up some deep fried Brussels sprouts with dill aioli, as well as a black Angus burger with horseradish mayo, crispy onions and Gruyère, with a side of hand cut fries (prices are still being worked out).
Some current menu staples at The Ace, include the colourful shaved autumn root salad, with raw cashews and goat yogurt, and a steaming bowl of southern French-style fish soup in a rich tomato fennel broth with house-made soda bread — an ideal way to shrug off the evening chill.
Seasonality is important, and Ruhl notes that all of the fish is all Ocean Wise certified, with much of it sourced from Lake Huron. Meanwhile, desserts on rotation include the zucchini cake served with blackberries and homemade oatmeal ice cream, as well as the increasingly popular chocolate pierogies, filled with Nutella — a nod to Roncy's Polish roots.
Published on: Dec 13, 2011