Epoch Bar & Kitchen Terrace
181 Wellington St. W.,
Toronto, M5V 3G7
About the Restaurant
Epoch Bar & Kitchen is a polished restaurant set on the lobby level of the Ritz-Carlton, Toronto. The restaurant sees the hotel's former DEQ Terrace & Lounge space revamped with an elegant design and a fresh menu focused on high-end gastrobar fare. With its classic aesthetic and approachable, seasonally-driven menu, Epoch aims to evoke an inviting and timeless ambiance.
The Food
Led by chef Jeff Crump, who previously founded the well-known Earth to Table: Bread Bar restaurants in Hamilton and Guelph, Epoch's menu puts a locally sourced spin on British gastrobar cuisine. 
"The whole concept is earth-to-table. He's all about seasonality," says Mimi Auyeung, public relations and marketing manager for the Ritz-Carlton. "When the season changes, the basic dish may be the same but the ingredients vary based on what's available."
The blue crab lettuce cups are a bright, delicately-flavoured starter topped with pickled apple and fennel pollen. 
The heirloom beet salad plays with contrasting tastes and textures, pairing earthy beets with creamy ricotta, fresh tomatoes and crunchy pumpkin seeds. 
Wild mushrooms, velvety brie and herbs elevate this humble mushroom on toast. 
Crispy Brussels sprouts get a spicy kick from chili and an umami sauce, with matchstick apple slices and sesame seeds adding a pleasant crunch.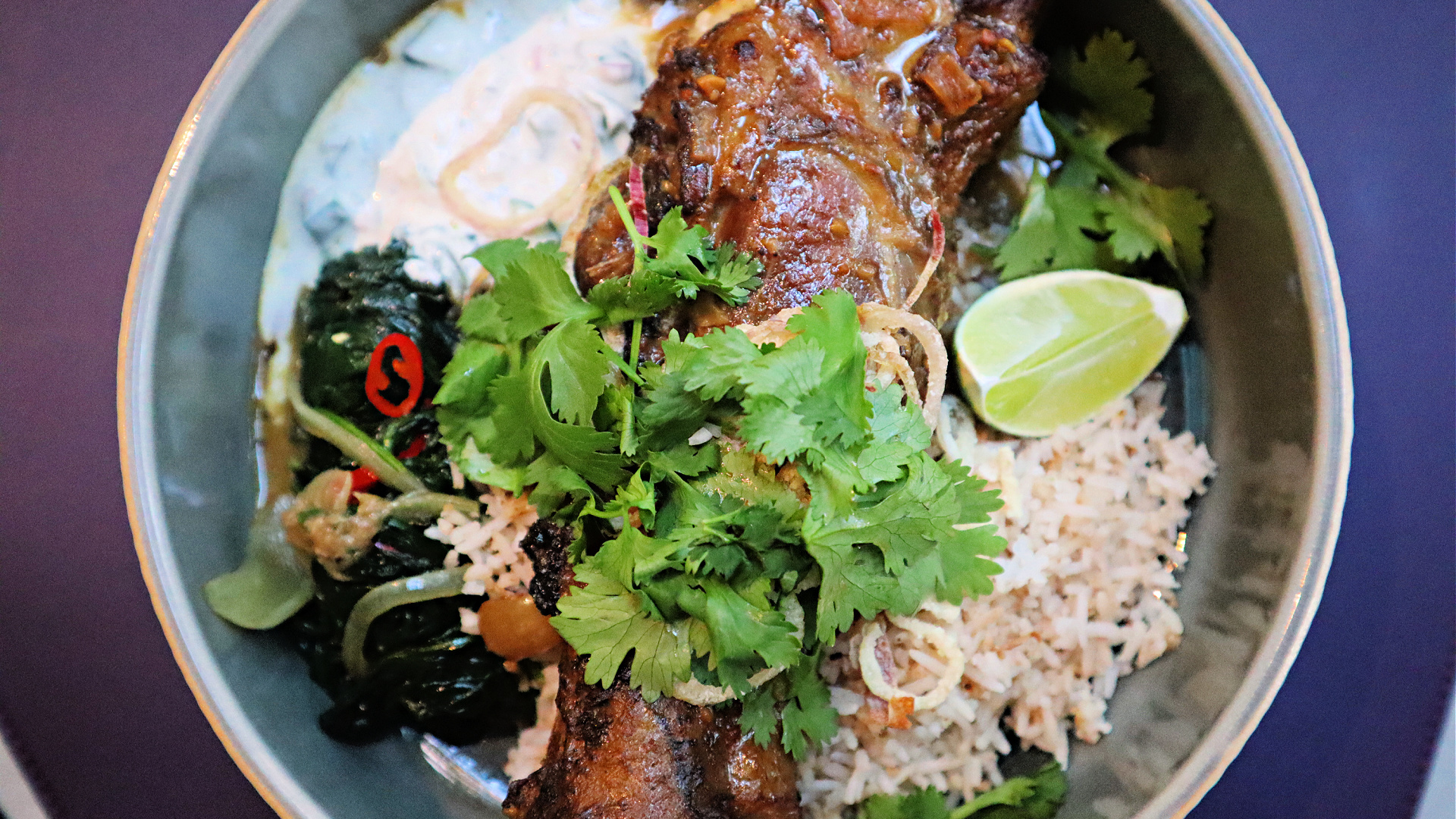 The curry lamb shank nods to the Indian influences in UK cuisine. Tender lamb shank is served with refreshing yogurt raita and warmly spiced eggplant. 
Profiteroles stuffed with milk chocolate ice cream are a simple but sweetly satisfying finish.
The Drinks
Bar manager Jason William Griffin riffs on Epoch's timeless theme with a cocktail menu that's inspired by the past, present and future. 
The "past" section, called Retrospective, reimagines retro cocktails from the '80s and '90s. "We're still trying to honour the original but do it in a modernized way with today's palettes in mind," says Griffin.
The Lychee Queen, for example, tones down the cloying sweetness of an old-school lychee martini with aquavit, lychee-infused fino sherry, strawberries and prosecco. 
The "present" is represented in the Contemporary section. Highlighting the growing importance of sustainability, many cocktails in the Contemporary menu incorporate housemade citrus stocks or a cordial made with vegetable trimmings. 
Epoch's Contemporary cocktail menu also pays homage to the growing low- and no-alcohol movement with alcohol-free cocktails like the Moment of Zen, which features Seedlip Garden 108, matcha tea, citrus stock and aquafaba. 
Prospective, the last section of the menu, features Griffin's vision of the future of mixology. The Nitro Martini, for example, levels up the classic cocktail by chilling it to -14°C using liquid nitrogen. 
Epoch's wine list offers a little something for everyone. There's a mix of Old and New World wines, including well-known bottles as well as lesser-known vintages, plus a solid selection of sparkling.
The Space
Epoch's refined, 61-seat interior is dominated by a glittering central bar, which also serves as a partial divider between the more traditional dining room and a relaxed lounge area. Those with an eye for art will spot some colourful works by Canadian photographer Caitlin Cronenberg in collaboration with artist Heidi Conrod. 
An arched doorway connects the lounge to the Green Room, a cozy space featuring a fireplace and pool table, which can be closed off for private events.
The restaurant's sprawling terrace features lush greenery, stylish firepits and its own equally stunning bar, plus an outdoor kitchen with a wood-fired oven. On Friday evenings, the terrace hosts live bossa nova and jazz performances. 
Words and photos by Jessica Huras; Posted on September 21, 2021