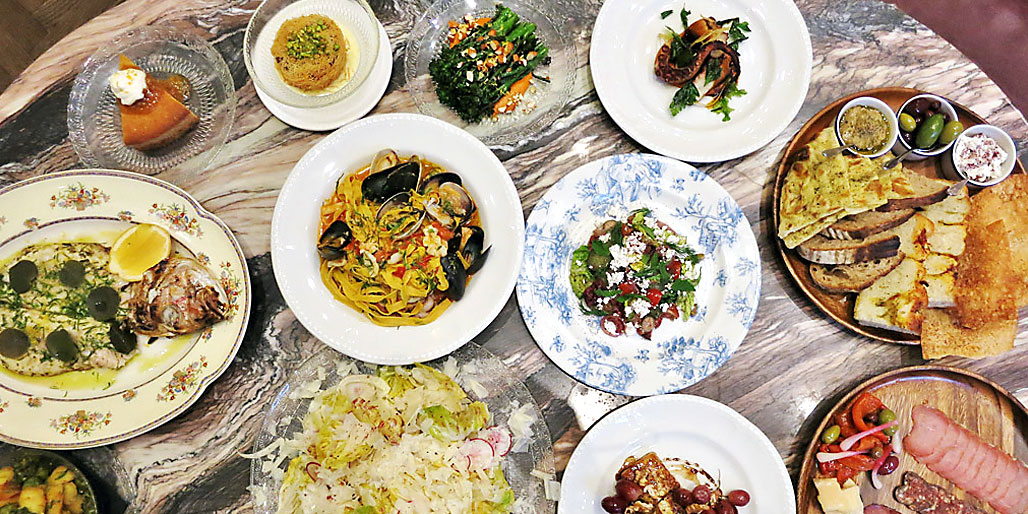 Estia
90 Avenue Rd,
Toronto, ON M5R 2H2
Categories
About the Restaurant
Estia, located in the former NAO Steakhouse space on Avenue Road, is the latest restaurant in the ICONINK collection. When asked why the change of concept was made, Director of Operations Christina Kuypers says "peoples' lifestyles are changing; people are eating out more frequently at places with more diverse offerings."
The company is invested in and committed to the heritage building which houses the new Mediterranean spot. Kuypers says the newest addition adheres to the company's ethos of "growth brands and concepts that age gracefully" and can withstand the test of time and endure through the ever-changing fads and food trends.

(IMAGE: YVONNE TSUI)
The restaurant's moniker is a nod to the goddess of the hearth.  The space has an overall "feminine" approach starting with its logo, which is inspired by one of Picasso's line drawings. The centerpiece is a chandelier that loosely resembles a tutu. There's interplay between surfaces with modern touches and softer fabrics — tufted burgundy leather and herringbone wood floors contrast with plush velvet chairs.
Beyond the décor, the hearth also refers to the cooking methods that dominate in the kitchen – grilling over a wood fire and in the wood-fired oven. "Gathering around the hearth is how many civilizations have developed" says Kuypers.
It is a nod to the old world. While the menu is "inspired by the regions of Greece, Southern Italy and Spain," she says, there is a noticeable focus on Greece.

Seafood Linguine - clams, mussels, cold-water shrimp and squid cooked in a wood-fired cherry tomato sauce with fresh basil (IMAGE: YVONNE TSUI)
Executive chef Benjamin Heaton has created a menu of "food that I'm really into – really simple but good ingredients. It's about sharing and eating amazing, super-fresh ingredients." Everything is made in-house (with the exception of olives), such as the halloumi cheese and cured meats. Brent Maxwell (formerly of East Thirty-Six) is the chef de cuisine.
The menu has a healthy selection of six salads. The selection is designed so that you can swing by for a drink and some shared plates or stay for a meal. Pastas are available in half or whole portions and there's a selection of daily seafood priced by the pound.
Menus are printed daily to reflect the up-to-date seafood options. Currently, it's a mix of West Coast and New Zealand fish as well as farmed choices from Greece (Branzino and Sea Bream). As well as the species of fish, diners choose one of four seasonings, from simple olive oil and sea salt to chermoula, a marinade found predominantly in north African cooking.
For those looking for something a bit meatier, there's the beef short rib that is cooked for 8 to 12 hours.  While NAO is no more, it lives on in the form of a 14-oz. bone-in steak. Sides, including grilled broccolini, oven roasted peppers and good old Yukon fries, are ordered à la carte.

Kataifi Tart - Semolina custard with pistachios, almonds, walnuts and cardamom (IMAGE: YVONNE TSUI)
The dessert section of the menu has options like a traditional Yogurt Cake with Meyer lemon marmalade and a dollop of tangy yogurt, or the Kataifi Tart which Heaton describes as "baklava, our style" with a semolina custard, pistachios, almonds, walnuts and cardamom.
The beverage program here is designed to complement the food. It's a "wordly list" with an emphasis on Mediterranean which covers some 20 or so different countries and the diversity in the wine, soil and climate is unique to its terroir. While the list offers up wines that are "great value" with many "recognizable varietals" the team has also had some fun with wines such as the Xinomavro – like "pinot noir in black jeans," says Kuypers.
Cocktails are "market-fresh", read: botanical, floral and fruit-forward – or in Kuypers' words "crushable drinks." The signature Estia Spritz is "fun, not about being ahead of the curve but just drinking what's good and enjoyable," she adds.
Though perhaps the most unique part of the beverage program is the Digestif Trolley with a healthy selection of amaro, grappa, brandy, armagnac, vermouth, scotch and other Mediterranean spirits like, ouzo which include "different expressions of ouzo, not just licorice."
As the summer months approach, one can expect the patio, which seats 80 to be a great spot for people watching, from both sides of the proverbial fence.
Published on: May 25, 2017