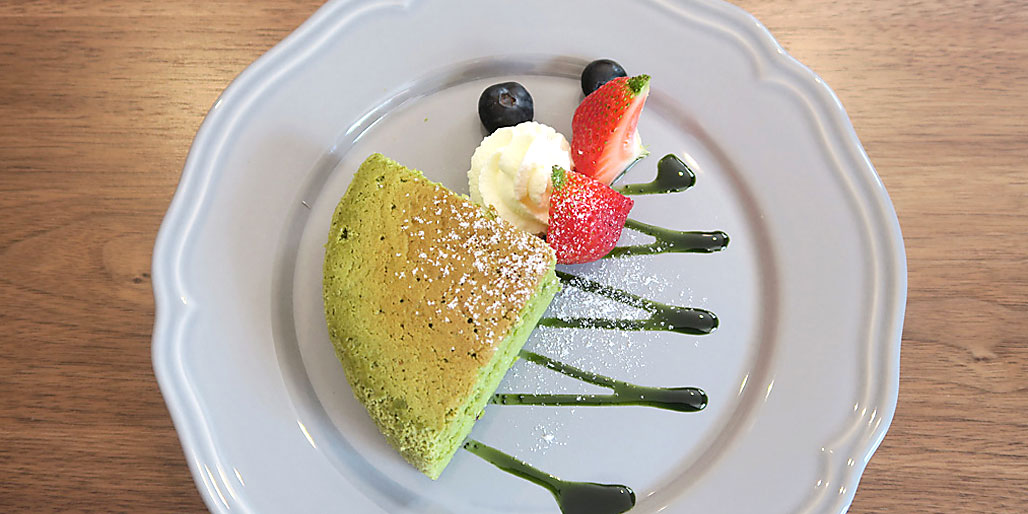 Uncle Tetsu's To Go
191 Dundas St W,
Toronto, ON M5G 1C7
About the Restaurant
It's easy to think that you've stepped into Japan as you enter the second floor of Uncle Tetsu's Angel Café. This new venture is a far cry from the utilitarian take out spaces of both Uncle Tetsu's Cheesecake and Uncle Tetsu's Matcha Café.

Chocolate pudding (IMAGE: AMANDA NUNES)
For starters, cheerful maids shout out a greeting in Japanese as you arrive. The space is bright with natural light and filled with tables, couches and cozy nooks. Servers dressed in black-and-white maid uniforms are busy serving a diverse clientele of dessert fans, lolitas, couples and Japanese culture fans. Welcome to the first Uncle Tetsu Angel Café in the world, and the only maid-style café in Toronto.
Apparently, Uncle Tetsu wanted to open this cafe to expand the conversation between Japanese culture and Toronto. He's also a big fan of J-Pop culture, so wanted to include that aspect as well.

The display case Uncle Tetsu's Angel Café (IMAGE: AMANDA NUNES)
Although this is a maid style café, it doesn't follow all aspects from the typical Japanese model. The servers have bubbly personalities and wear the same type of French maid uniform that you would find in Japan, but it's been toned a bit down to avoid overwhelming Torontonians, and so that visitors would feel welcome. Service is friendly and cute, with a high level of attentiveness.

The maids (that's what they call them) at Uncle Tetsu's café  (IMAGE: AMANDA NUNES)
Another unique aspect of this café is the live entertainment. Customers can enjoy live J-Pop dance performances on stage as they sip their drinks. Performances are currently offered on select days, but when the grand opening rolls around you'll be able to catch shows daily.
The menu includes popular Uncle Tetsu staples like the Original Cheesecake ($4.95) in original, matcha, or matcha red bean. The Angel Hat ($5.95) is available here in 4 different flavours, including original, chocolate, strawberry and matcha. New flavours will be added as well.  The Angel Hats are characterized by being moist and bouncy.
So what can you get here that you can't get at any other Uncle Tetsu location? The new Lunar Cheesecake.  The Lunar Cheesecake is a dense, velvety and creamy cheesecake. It's close to a New York style cheesecake, but not as dense. Try it in plain, chocolate, yuzu and matcha at $5.95 a slice. Puddings are also new, and come in plain, chocolate, and matcha ($4.95).
At the take-out counter, whole Angel Hats ($10) and Lunar Cheesecakes ($18) are available to go.
In addition to desserts, a Japanese inspired café menu is offered for drinks. Visitors can wash down that cheesecake with matcha lattes ($4.75) complete with adorable latte art, and hot chocolate with real chocolate at the bottom. The popular Kyoto brand of tea, Ito-en, is served here. Both Hojicha ($3.75) (roasted green tea) and Genmaicha ($3.75) (green tea with roasted rice) is available.
On April 25, they will have their grand opening, and will launch their savoury menu that will also bring expanded hours. One of the dishes will be Tomato Ramen with a base that ishalf chicken, half seafood. Not as rich as a pork based broth, this ramen style is a lighter and healthier version, which is booming in Fujioka, Japan.
Published on: Apr 18, 2016