La Palma
849 Dundas St W,
Toronto, ON M6J 1V6
Categories
About the Restaurant
La Palma's concept is described as "Venice Beach-inspired but elevated for Toronto" says Hutchison, who designed the space.  On a trip to Venice Beach, she noticed that the "new art-centric community and vibrant street art" was similar to the Dundas West neighbourhood that La Palma calls home. "Trinity-Bellwoods is like the beach of Toronto" she adds, pointing to the flocks of Torontonians who sunbathe on its grassy stretches.
The gigantic mural pays homage to the "process of art." Hutchison commissioned local artist Madison Van Rijn for the thoughtful mishmash of classic art and street art – splashes of teal, a nod to classic watercolour; black splotches, a nod to street art and a bit of pink "just for fun."
The marble-top tables were designed and inspired by one of Hutchison's favourite artists, Constantin Brâncuși who is known for totemic sculptures. Brass and wood accents are seen throughout the restaurant, such as on the wall sconces. On restaurant design, Hutchison says that the "space has to reflect the food coming out of the kitchen" and she designed the space to "draw the eye to the kitchen, the most celebrated part of the space."
The servers' uniforms, designed by Pink Tartan have a nautical inspiration — the tunic neckline meant to evoke a "beachy vacation."
La Palma is a day-to-night spot with takeaway coffee, pastries and bread to grab and go. The food is "a little different but still within our repertoire" says Hutchison. It's a "fresher, lighter style of food," says Harding. The wood burning oven and Argentinian grill also allow for more breadth of cooking styles.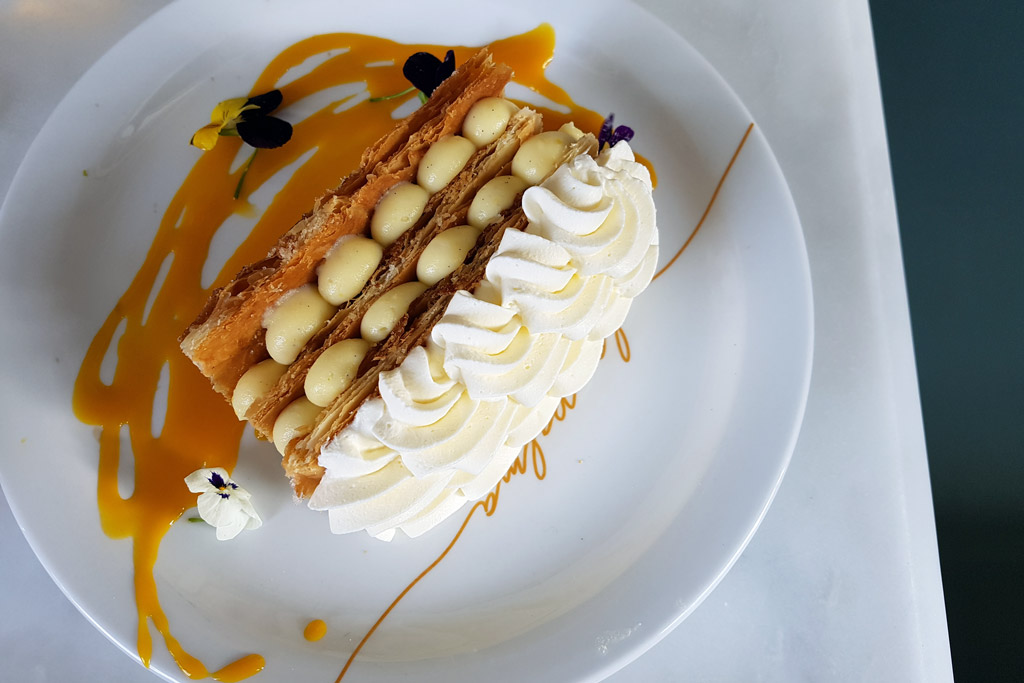 The pastry program is run by Stefania Giansante, a native of Abruzzo who has a background in traditional Italian pastries. One should save room for dessert. Be it for the Biscotti di Dama, described as "lady's kisses," two cookies wedged together with a fresh lemon filling or the Millefoglia, Italy's answer to that flaky, many-layered French delicacy laced with pastry cream and a drizzle of passionfruit-mango sauce. But Giansante is also taking traditional recipes and playing with different ingredients, like the Portuguese olive oil she uses in her olive oil cake. There are also cannelés and grilled donuts on the menu glazed with honey and maple syrup for caramelization.
Daniel Castro (Toronto Temperance Society) is in charge of the cocktail program at La Palma with a focus on spritzes to keep with the light and refreshing food options. He researched cocktail bars in California and says that the cocktails at La Palma can please the average guest but also those with more discerning palates. The Astra, for example, is inspired by a traditional martini but when crafting all the cocktails Castro asks himself "where can we go from here?" The end result is a cocktail menu that consists of drinks that are "well-balanced and in harmony."
Harding sums up La Palma best by saying it's "like an Italian on vacation – a little more fun and playful."
Published on: Jul 4, 2017