Marked Restaurant
132 John St.,
Toronto, ON, M5V 2E3
Categories
About the Restaurant
Marked is a flashy new restaurant from Fourthspace Hospitality, the group behind Coffee Oysters Champagne and its now well-known secret bar à toi. Like COC and à toi, Marked is a stylish space with killer cocktails, a well-curated food menu, and a design that encourages diners to move through different parts of the space throughout their evening.
Marked took over the space of the never-opened Zebu Steak + Bar, reimagining it as a South American restaurant with an emphasis on dishes cooked over a wood charcoal grill. "We were really fascinated with the grill so the whole concept centred on that, but we didn't want to do a steakhouse," says manager Jake Dolgy. "We wanted to do a journey through all the different cultures and all the different flavours that encapsulate South American cuisine."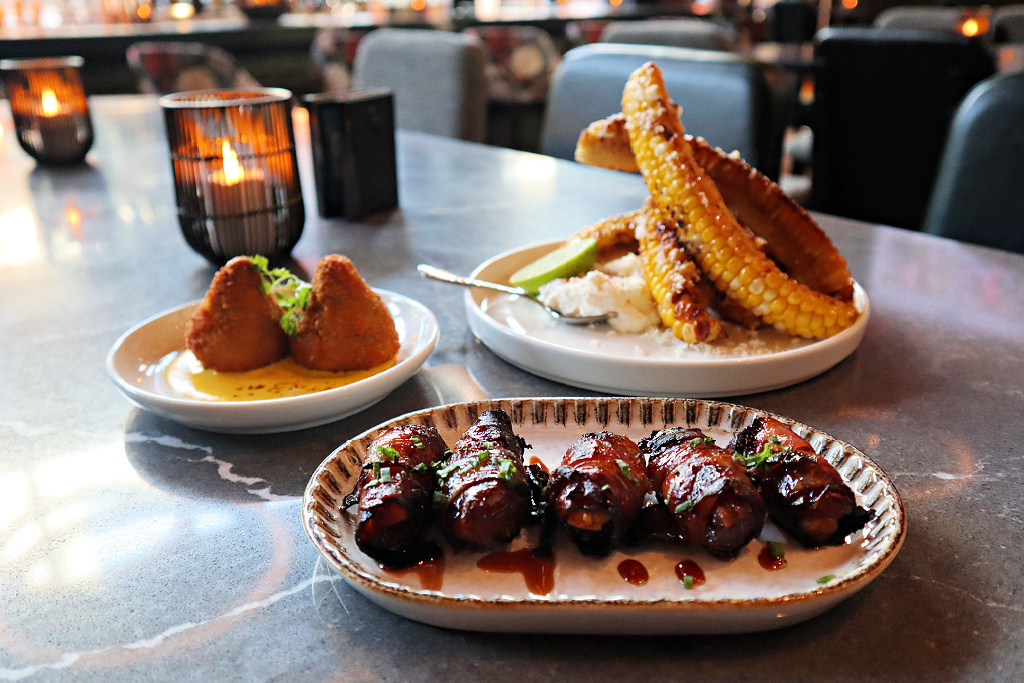 Dolgy says this idea of "journeys" is at the heart of Marked's theme. From the diverse drinking and dining areas within the space to the lengthy list of cocktails, the restaurant aims to turn dinner and drinks into an experience.
The Food
Marked sees sustainably-sourced, seasonal meat, seafood, and produce prepared with a South American influence. The menu gives diners the option to create a traditional appetizers- and mains-style meal, starting with small plates (pequeno), ceviches and salads, before moving on to the more sizeable medium (medio) plates and large (grande) plates. 
There's also the option, however, to order a few items from every section of the menu to create a shareable, tapas-style feast. Dolgy says the hope is that diners will design their own journey by mixing and matching from various sections of the menu, based on their preferences and appetite.
The Tropical Fruit Ceviche ($17) is an unconventional take on the Peruvian classic, done with gooseberry tiger's milk, mango, papaya, chive oil and sunflower seeds.
The beautifully-charred Corn Ribs ($16) are served with a dollop of whipped queso fresco, piri piri sauce and lime chipotle salt (be careful not to eat the cob by mistake!).
Dolgy describes the Roast Chicken Coxinha ($13) as having all the comforts of chicken soup but in croquette form. They're served with a flavourful huancaina sauce.
The sweet and savoury Dates ($12) are wrapped with house bacon with pickled pepper and manchego cheese.
The show-stopping ($45) is Rooftile Fish ($45) sees sea bream grilled over an open flame and served on a rustic earthenware slab with blistered cherry tomatoes, salsa verde, tomatillo sauce and lemon.
The Lambchetta ($35) is an adaptation of Italian porchetta, with grilled Ontario lamb, rosemary garlic, green olive, and aged balsamic.
The Drinks
Creative cocktails are the high point of Marked's drink choices. There are two different cocktail menus offered between the main restaurant and back cocktail bar, Corsair, giving diners a total of just shy of 60 drink options. The main bar and restaurant focuses on "fun, playful riffs on tropical classics using South American flavours," according to Dolgy. 
The soda section of the menu is particularly interesting, featuring the restaurant's take on milk punch, an old-school style of cocktail that's clarified with milk. The results are carbonated for a bubbly, soda-like effect.
Diving deeper into the 30-page menu, you'll find Marked's take on South American standards like this Rabo de Galo ($16), a popular Brazilian cocktail featuring leblon cachaça, Bacardí añejo cuatro, cocchi rosa, pamplemousse, cynar and cardamom bitters.
Brazil's national cocktail, the Caipirinha ($16) is made with leblon cachaça, white vermouth, pandan and lime.
Cocktails get even more out-of-the-box at Corsair, which Dolgy says is inspired by top cocktail bars around the world, including Toronto's own Bar Chef. Corsair specializes in built-to-order cocktails, which recreate classic cocktails with hard spices. Bold and layered in flavour, these cocktails are unlike anything you've likely tried before. 
The Absinthe Cocktail ($25), for example, mixes  Dillon's neutral grain spirit, grand wormwood, licorice root, angelica root, anise hyssop, calamus root, orris root, rhubarb root, lemon peel, fennel, star anise, balsam fir, chamomile, juniper, grapefruit peel, lime cordial and lime.

The Spiced Rum & Coke ($25) is a complex reinterpretation of the simple cocktail, made with Mount Gay Eclipse rum, angelica root, nutmeg, orange peel, galangal root, sarsaparilla, tonka bean, kola, guarana, star anise, black peppercorn, clove, allspice, Mexican cinnamon, vanilla, almond, demerara and lime.
The Space
Curated by Navigate Design, Marked's 10,000 square-foot space flows between several distinct areas. 
Diners enter via the Pan-Am Lounge, a fancy take on a sports bar, with a few retro touches such as black-and-white photos.
Continuing further into the space brings you to the main dining area, Comedor, which channels a subtle 1950s theme with its vintage South American travel art. This part of the restaurant also features Tucano, an elevated, glass-enclosed private dining area.
En route to Corsair, you'll catch a glimpse of the restaurant's chefs at work via a glass peek-a-boo window into the kitchen. The cocktail bar amps up the retro glamour with its handsome wooden bar and rows of glowing, backlit bottles.
"It was designed to be a multi-experience venue," says Dolgy. 
By: Jessica Huras Posted: Sept. 30, 2020