Petty Cash
487 Adelaide St W,
Toronto, ON M5V 1T4
About the Restaurant
When deciding where to dine on King West, Baro and Home of the Brave inevitably come up in conversation before a dilemma ensues. Enter Petty Cash, a new collaboration between chefs Steve Gonzalez (Baro) and Nate Middleton (Home of the Brave), that is now open in the old SpiritHouse location near King and Portland.
In days past, the two would often take turns cooking for each other. When Gonzalez first opened Valdez — which was later reborn as Baro — it was love at first bite when Middleton had the chaufa, a fried rice dish with duck confit and fried egg.  "If there was a competition of who could eat chaufa the fastest, I would win," says Middleton. From there, a true culinary bromance culminated in Petty Cash.
"That's the beauty of our relationship, we like cooking together," says Gonzalez.  The duo's bond was strengthened further when they were paired up for a culinary fundraiser in Panama with fellow chef friend Rossy Earle, the creator of Toronto's favourite hot sauce, Diablo's Fuego.
"I think if you've eaten at Valdez and Baro and at Home of the Brave and then you eat here, you'll get it," says Gonzalez. Their menu of "fresh and familiar eats" caters to the plant-based crowd but also doesn't alienate those looking for the "down and dirty" food that is typical at your everyday bar.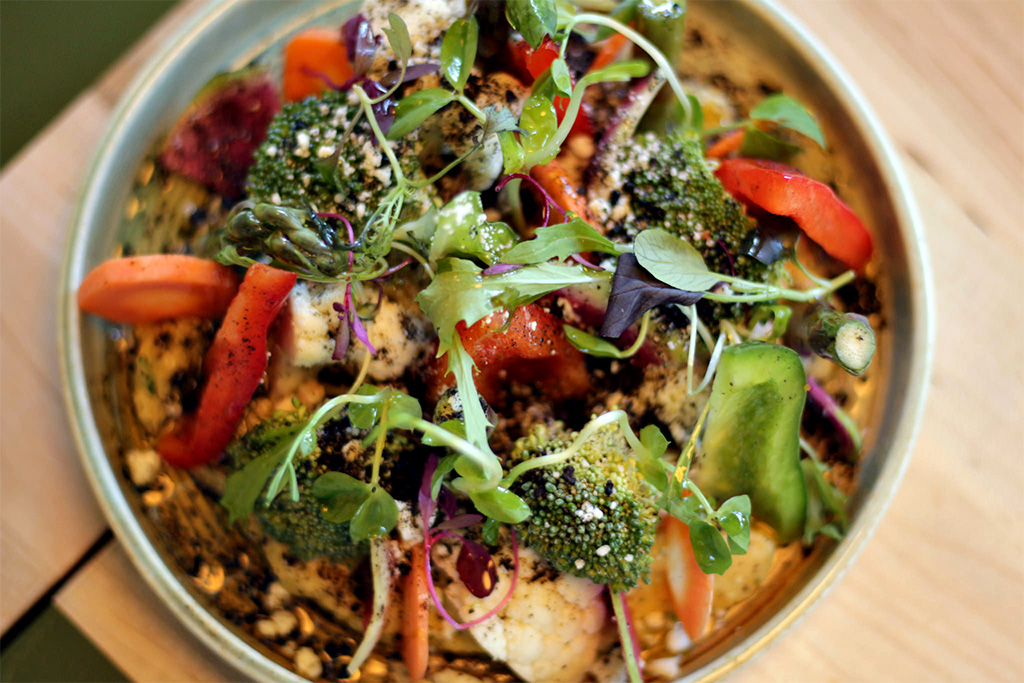 The two chefs think of Petty Cash as a one-size-fits-all kind of spot.
"Friends don't have to separate, they can all come here. You got your vegan friend, your fried chicken friend, your burger friend, and your salad friend. We're trying to make something for everybody," says Middleton.
The sprawling fenced-in patio, with its picnic tables and turf, will make you want to linger for hours. The interior, designed by Solid Design & Build (the firm that brought venues like DaiLo and La Carnita to life), gives off a pawn shop vibe with an urban twist. Think: a mishmash of dollar signs, cassette tapes and plants, with a DJ booth in the corner.
The name Petty Cash links back to the cash float that is kept at restaurants for contingencies but also plays on the idea that people are "coming here with their petty cash to have a good time without having to blow the bank for good food," says Gonzalez.
Behind the bar is Karl Poldre (ex-Hanmoto), who has created a bar program that puts approachability at the forefront with "executable drinks, that are tasty but approachable" in keeping to his belief that elitism has no place in cocktails.
The bar menu is meant to complement the chefs' menu of "fresh and approachable" eats. There's the Frosé for instance, which was inspired by the patio and also the summer menu. "There's a lot of freshness to it so it ties in nicely as the perfect kind of drink to enjoy on a beautiful patio on a hot day." It is topped with freshly squeezed strawberry and watermelon juice.
There's the Pineapple Zaddy, Poldre's current favourite on the menu which is his take on an Aperol s​pritz with some fresh pineapple and citrus juice thrown into the mix.
Expect some more exciting themed nights to come and a full-blown list of signature cocktails as the team "feels out the crowd."
Published: Jul 26, 2018