Pink Sky
480 King St. W.,
Toronto, ON M5V 1L7
Categories
About the Restaurant
Pink Sky is an inviting seafood restaurant from Scale Hospitality, the group behind well-heeled spots like Lapinou, Toronto Beach Club and Shook. The restaurant takes over the King West home of Weslodge, another Scale Hospitality venture that's set to reopen in a new location. 
Co-founder Hanif Harji says Pink Sky draws inspiration from the sea-to-fork restaurants that are ubiquitous across the eastern coasts of Canada and the U.S.
"I fell in love with the fresh seafood and their approach to food," says Harji of visiting these shoreline destinations. "Charles [Khabouth, co-owner] and I both felt that Toronto could use a really fresh, casual seafood restaurant in the downtown core."
With stunning raw bar platters and handsome decor balanced by an old-school rock soundtrack and comfort foods like beer-battered fish & chips, Pink Sky exudes easy-going elegance. "We wanted a person in jeans and a T-shirt to feel as comfortable here as a person wearing a blazer," says Harji. "We want people to be able to come multiple times and have different experiences." 
The Food
Pink Sky's thoughtful, pared-down approach to seafood shines the spotlight on the natural flavours of its high-quality ingredients. 
The raw bar menu, which changes daily based on what's freshest, features beautiful platters and towers piled with oysters, shrimp, mussels, lobster and other off-the-boat fare, served either raw or grilled with a simple finish of lemon, olive oil and sea salt. 
Dill, cucumber, mint and pickled shallot bring earthy brightness to this salmon crudo. 
This whole branzino highlights Pink Sky's subtle but impactful use of flavour. It's cooked over charcoal and finished with lemon and olive oil, with salsa verde on the side for added zing. 
The cioppino is a seafood-on-seafood feast, combining mussels, clams, shrimp and white fish in a rich tomato broth. It's served with wedges of toasted Blackbird Bakery sourdough. 
The lobster mac and cheese is an decadent, shareable dish that you secretly won't want to share, featuring housemade rigatoni baked with a blend of mascarpone, cheddar, cheese curds, mozzarella, cream cheese and Parmesan. It's finished with toasted bread crumbs, shaved truffles and chives, along with pickled jalapeño, which brings a hint of tang to the creamy dish. 
The menu is rounded out by delicately-flavoured desserts like this strawberry shortcake topped with vanilla ice cream and seasoned with cardamom. 
The Drinks
"We wanted our drink menu to be representative of the food menu, where it's just fresh, easy and not trying too hard," says Harji.
Many cocktails, like this Caribbean Sazerac made with Bacardi 8 yr, Remy VSOP, grenadine, falernum, orange bitters and Peychaud's bitters, put a playful spin on classic drinks. 
The approachable wine list is designed to pair well with seafood, featuring light reds, crisp whites and a good selection of sparkling available by the glass or bottle. There are also a handful of international beers on tap.
The Space
Pink Sky's roomy interior is sophisticated yet welcoming. Dark wood, custom light fixtures and pops of deep teal and gold create an upscale vibe, while exposed brick walls and metal accents add a down-to-earth element that channels coastal port warehouses.
Large windows running along the front of the restaurant offer views of the King West strip, while the rear of the space features a sparkling open kitchen framed by a display of fresh seafood. There's a  private dining area on the second level that overlooks the main floor. Live DJs perform on Friday and Saturday nights.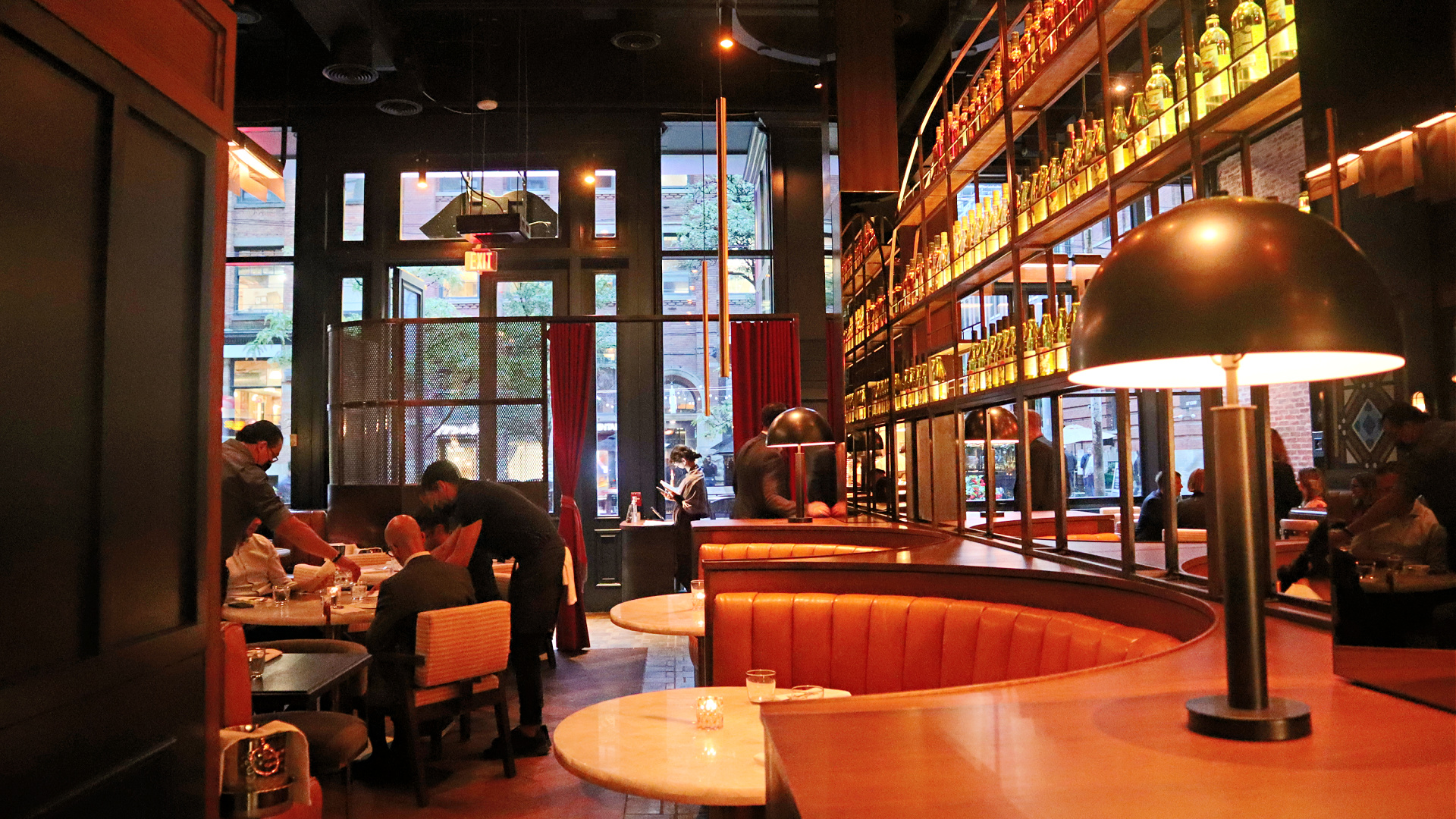 "We want the food to shine but we also want people to stay and have a couple of drinks, listen to the music and enjoy the environment," says Harji. "Fun and easy is at the heart of what we want it to be."
Words and photos by Jessica Huras; Posted on September 24, 2021