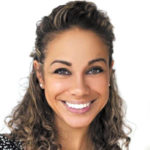 Natalie Preddie is a travel and lifestyle writer, speaker and guest expert on Cityline, Your Morning and Global's The Morning Show.
---
This September is especially hectic with a number of uncertainties, but one thing is for certain: you will need a weekend away from the madness. You will need a real change of scenery, a getaway in one of Ontario's most unusual accommodations.
For the glampers, one of the more popular trends is staying in a yurt. Not only are they a unique structure, they are affordable, eco-friendly and, as of late, very luxurious. Yurts offer the comfort of a conventional hotel while still allowing for a taste of the wild.
Over in beautiful Rossport, Ont., and overlooking Lake Superior, is a charming and luxurious yurt that can be found on GlampingHub. This stylish yurt can accommodate up to four people with a queen bed and a luscious pullout sofa. Secluded and romantic, this yurt also boasts a fully equipped private bathroom space with a revitalizing sauna, a kitchenette for meal prep and a propane stove that's perfect for snuggling beside, with an adult beverage. In the winter, snowshoes are also available.
One can spend the days hiking, biking, searching for wildlife or enjoying sparkling Lake Superior swimming, kayaking or simply bobbing in the water.
Should becoming a Tenenbaum be on one's list of to-dos, this unique home — currently located in Picton, Ont., but will be moving to a new location later this year — is perfect. The Wes Anderson Film–Themed Century House in Prince Edward County is described by the owner as a "Love letter to [Wes Anderson] and an ever-evolving design project."
Each room is dedicated to a different Wes Anderson movie, from the Darjeeling Tea Room to Margot's bedroom, Grand Budapest bathroom and the S.S. Belafonte sitting room. The large fenced-in private backyard is perfect for stargazing in one's own Camp Ivanhoe.
This eccentric property has been featured in Lonely Planet, IndieWire, HGTV Canada, W Magazine, PopSugar UK, Mashable, Elle Decor, Hello Giggles and Travel + Leisure.
The Wes Anderson House sleeps four comfortably, and isn't that a much better way to spend the night?
Finally, what could be more exciting than a weekend spent in a riverside teepee on the edge of the Amable du Fond River? Situated in Ontario's stunning Algonquin Park, this 18-foot, custom-built teepee is the ultimate in Canadian glamping. Teepees were originally a portable home for the Indigenous people of the plains, a necessity for their mobile way of life. Originally four to six metres in diameter, these tents were built in cone shapes with smoke holes in the top to allow for indoor fires.
This giant teepee boasts insulated floors. The property is equipped with everything one would need for a rustic yet comfortable weekend away. Days can be spent hiking, biking, wildlife watching or on the water in a canoe or kayak. At the end of the day, unwind next to the firepit, watching the stars and listening to the sounds of nature. This destination is the ultimate Ontario getaway.