Over the past year we've fed our resident chef, Grant van Gameren, everything from jerk chicken to coconut cream pie. Here, a roundup of the best our city has to offer.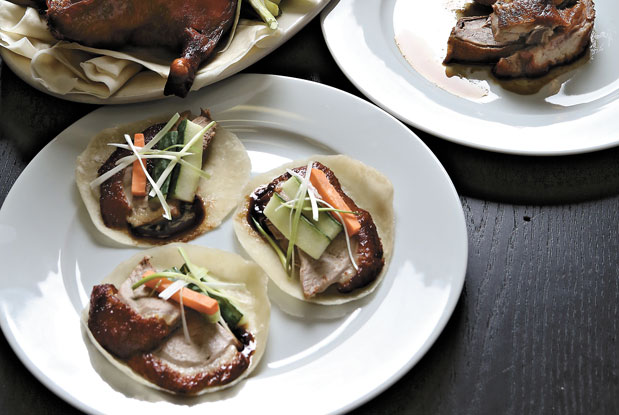 JANUARY: PEKING DUCK
WINNER: PEKING MAN, 1100 Sheppard Ave. E., $36
The most impressive-looking of the bunch, the dish delights chef with its tender texture and "mouth-watering" flavour.
FEBRUARY: SPAGHETTI
WINNER: THE BIG RAGU, 1338 Lansdowne Ave., $16
"This one smells delicious," van Gameren says. The sauce has a nice acidity and the meatballs are the perfect consistency.
MARCH: CAESAR SALAD
WINNER: THE OCTAGON, 7529 Yonge St., $14.50 (Dinner)
"It's got a good amount of dressing; the flavour's there; they make their own croutons; they seem like real bacon bits."
APRIL: COCONUT CREAM PIE
WINNER: SCARAMOUCHE, 1 benvenuto pl., $13 (slice)
This pie is really rich and sweet without being overly saccharine. The white chocolate clinches this as the winner.
MAY: SAUSAGE
WINNER: BRUNO'S FINE FOODS, 1560 Yonge St., Honey Garlic, $6.99/lb
This pick ticks all chef's boxes: salt level, quality of seasoning and moisture level.
JUNE: ICE CREAM SANDWICH
WINNER: UNCLE BETTY'S, 2590 Yonge St., $5.50, Sugar Donut & Toasted Marshmallow
Chef is taken by the addition of Skor bits and caramel. "It's a pretty neat concept."
JULY: BBQ RIBS
WINNER: AAA BAR, 138 Adelaide St. E., Smoked Dry Rub Ribs, $15
"These are super simple but very well executed," van Gameren notes. "Someone is serious about their smoker!"
AUGUST: JERK CHICKEN
WINNER: MONA'S ROTI, 4810 Sheppard Ave. E., $7.52
"This is hitting every flavour note that I'd like," chef says. "You get all those traditional flavours –– this is definitely good jerk!"
SEPTEMBER: DELIVERY PIZZA
WINNER: CLASSICO LOUIE'S, 2549 Yonge St., $13.33
Chef points out the crispy pepperoni, the semolina flour and the thin crust, which folds nicely. "It's more artisanal," he observes.
OCTOBER: HOT TURKEY SANDWICH
WINNER: GOOD BITE, 2463 Yonge St., $10.95
Chef likes the mix of white and dark meat and the mushy peas. "It's bringing back a lot of memories with the flavour profile."
NOVEMBER: BUTTER TART
WINNER: LEAH'S,621 St. Clair Ave. W., $2.75
"It's tasty and the flavours are bang on!" chef says. "This is a very rich, sticky butter tart."
DECEMBER: LATKES
WINNER: DAITER'S FRESH MARKET, 3535 Bathurst St., $1.99
Chef is immediately taken with this latke. It is the most authentic in appearance and there's an audible crunch when it's bitten into.