At 304 Richmond St. W., nestled in a cluster of row homes turned businesses, sits Stella, the new collaborative restaurant venture from Dino Luciano, the vegan chef who won Season 8 of reality-TV show MasterChef, Lookout, and the 5700 Inc. (the Toronto-based creators of Vegandale).
Stella is Toronto's first contemporary Italian vegan pop-up, which will only be gracing our fair city for a mere three months starting on the first of November and ending Jan. 31, 2019.
A short staircase brings you to Stella's unassuming second floor interior. The functional, minimalist space seats an intimate 36 guests, and is punctuated with warm natural accents. A red brick wall parallels caramel-colour wood paneling, while the long narrow room is lit with the Toronto restaurant industry requisite Edison bulbs.
The team didn't have to change much upon entering the pre-structured resto, as it used to house the popular and recently closed watering hole, Thoroughbred. "Just a few cosmetic tweaks here and there," says Jared Cook of Lookout.
Luciano, a passionate chef and artist, started in restaurants at the age of 16 washing dishes and serving tables, but his Sicilian grandmother was teaching him the ins and outs of the kitchen long before that.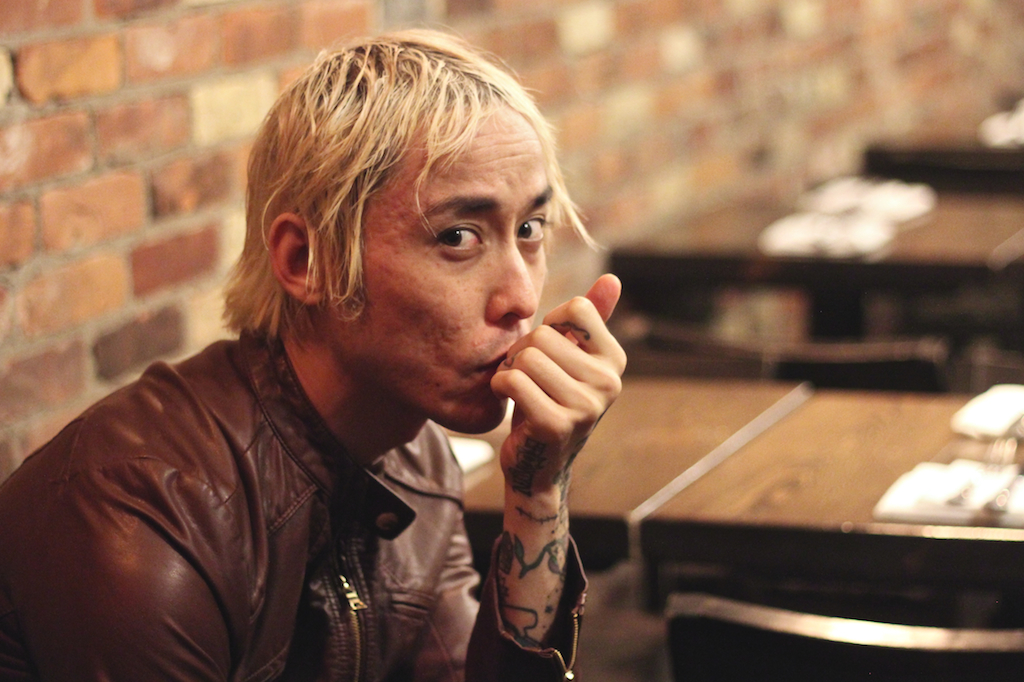 Chef Dino Luciano
"My grandmother used to tell me that she was teaching me to feed an army," says Luciano. "With her I learned the speed, technique and consistency that helped me later."
The Brooklyn, New York native has been catering or working as a personal chef for much of his career. "I've done a lot of cooking for men in suits," he jokes. Stella marks Luciano's first stab at monetizing his modern vegan take on Italian-inspired cuisine.
Stella's modest menu features six dishes of the best, and possibly only vegan Italian food you will ever have. The Three Mushroom Capellini ($19) delivers a rich coconut cream vodka alfredo accented with mushrooms and truffle oil and balanced with fresh dill and edible flowers.
The Sicilian Porridge ($12) is a soup that combines delectable winter squash and farro with a nearly Moroccan spice palette.
While the Cannoli ($16) is so crisp and decadent, you won't even notice that the dairy is missing.
Other dishes include a rather unique take on nonna's traditional favourite with Luciano's Cherry Risotto ($22).
As well as, another gorgeous twist, with the Caprese Crostini ($13).
As far as beverages go, the cocktail list is inspired by Italian classics and infused with some modern cocktailing tricks. Try the "My Ferrari's a Lemon!" ($15), a delightful bittersweet libation with counter-balancing notes of citrus, Pimms No. 1, Campari and Fernet Branca.
Ben Shirinian and Jared Cook of Lookout have combined their love of food with their love for crafting narratives through film in a sumptuous food short they've created that goes far beyond food porn.
The short video, which can be found on Stella's Instagram @stellaresto, features Luciano's romantically lit, tattoo-clad hands delicately chopping mushrooms and herbs while an Italian classic croons in the background.
"Food like this deserves a narrative that equals the experience of eating it," says Shirinian. "We wanted to express the level of intimacy Chef Luciano relates through the medium of food."
You can make your dinner reservation using Stella's website, stellaresto.com, or through the Open Table app. Doors open daily at 5:30 p.m. and each night will have three separate seatings. Openings are limited, so act quickly if you want to get a taste of Chef Luciano's contemporary vegan Italian fare before January 2019, when it may be gone for good.