Fans of the Emmy Award-winning show Schitt's Creek might recognize this $14.98 million mansion at 30 Fifeshire Rd. in North York — the Rose family was famously kicked out of the 24,000-square-foot residence in the pilot episode.
The mansion has nine bedrooms, 16 bathrooms and just about every amenity you can think of including an elevator, sauna, golf simulator, indoor swimming pool and lots more. Its 17th century French-inspired architecture is met with modern luxuries throughout its four levels. The estate is located behind a stylish gate in the St. Andrew-Windfields neighbourhood.
The mansion's foyer puts all other foyers to shame. The soaring domed ceiling has museum-worthy art inspired by the Sistine Chapel and there's even a marble staircase.
Both of the living rooms come with a fireplace and custom designed slab marble flooring.
Dramatic columns bring a historic feel to the office.
More fresco art can be found in the formal dining room.
This bathroom was designed with a bright red accent wall is one of 16 bathrooms in the mansion.
The family room is equally comfortable as it is extravagant. It features frescoed ceilings that were painted by European artists, who were flown in just for this project.
There's room for some casual dining next to the kitchen. Gridded doors also provide access to the patio.
The custom kitchen is designed with high-end appliances, marble flooring and a decorated ceiling.
All of the fun and games are located in the lower level. The 2,200-square-foot banquet hall has enough space to entertain 150 guests. The ambient lighting and glossy floor give it a casino-like vibe.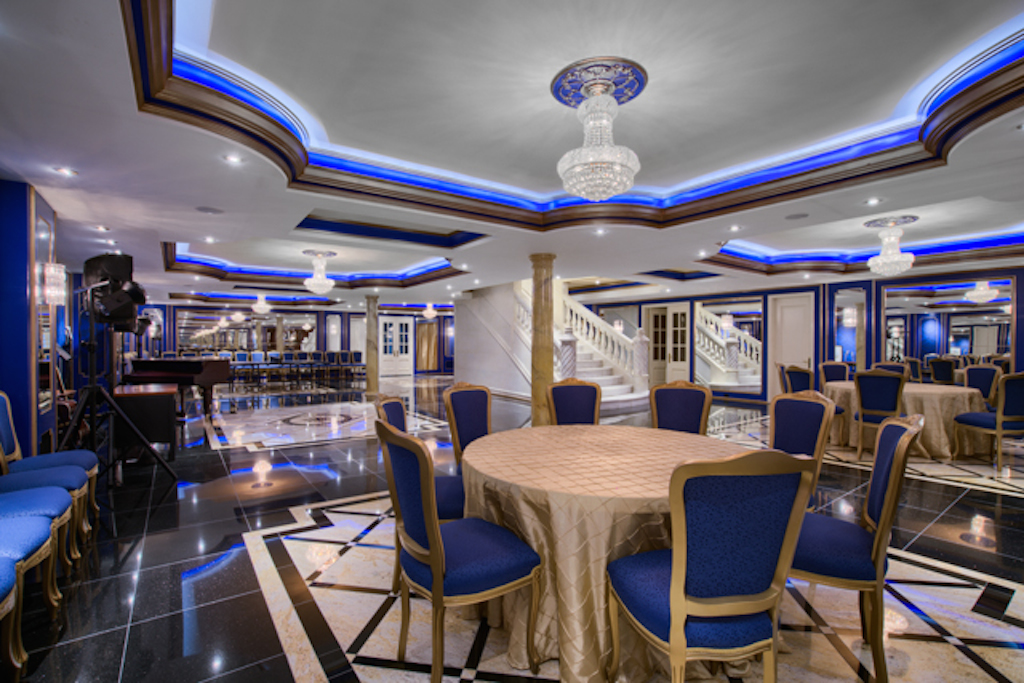 Vibrant blue wallpaper makes a statement in the games room.
There's a temperature-controlled wine cellar behind the games area.
The movie theatre comes with cosy armchairs and a nine-foot projector screen.
Here's a look at the home gym with mirrored walls.
The luxuries continue outside. There's a saltwater swimming pool, fountain, pool house, vegetable garden and lots of greenery.
This one-of-a-kind mansion at 30 Fifeshire Rd. is listed with Khoren Mardoyan of Homelife/Vision Realty Inc.