Despite the mass exodus from Toronto that's been happening since the pandemic hit, the price of real estate in the city has continued to skyrocket in 2021. The average detached home in Toronto proper will now run you about $1.75 million, and real estate experts say this price will only continue to rise in the near future.
Within the city of Toronto, there is a wide range of what is available for $1.75 million, but in the central area, in neighbourhoods such as Leaside, Moore Park and North Toronto there are fewer and fewer options. For instance, a cute three-bedroom bungalow on Hoyle Avenue is on the market for $1.749 million in Leaside (pictured above). This neighbourhood was once filled with post-war bungalows, which are being converted to larger two-storey family homes.
It's no secret that your dollar will go further when it comes to real estate in pretty much any other city in the province, or the country for that matter. Although that gap is shrinking, and shrinking fast. If you're considering leaving the big smoke in favour of more space and a new pace of life, these properties going for the same price as Toronto's average just may push you over the edge:
Located south of fast-growing Barrie, Ont., the countryside region of Essa provides stellar rural living with easy access to the city amenities of Barrie including the GO train to whisk commuters back to Toronto. This home is on a 1.14-acre lot with an in-ground saltwater pool and gorgeous views.
Listed just shy of $1.7 million, this 3,130-square-foot home in Orangeville comes with brand new finishings, five bedrooms and five bathrooms. With its sweeping staircase, shiny quartz counter tops and spacious back deck, this property could tempt any die-hard city dweller.
Nestled on a 1.7-acre property, this 2,367-square-foot bungalow in Hamilton comes with three bedrooms, a gourmet kitchen, a covered deck and a seven-person hot tub. Custom built just 12 years ago, the home and surrounding yard is curb appeal central.
Located in Oakville's Westmount neighbourhood, this 3,120-square-foot home boasts five bedrooms, four bathrooms, 10-foot ceilings and hardwood flooring. It also offers a double wide driveway, a patio and professionally landscape front and backyard — plus, it's within walking distance to Oakville's shops, restaurants, schools and more.
For $50,000 less than the average Toronto home, this four-bedroom Barrie home could be yours. With panoramic lake views, a large two-tiered deck and plenty of nearby bike trails, this cosy retreat just might be worth saying goodbye to the city.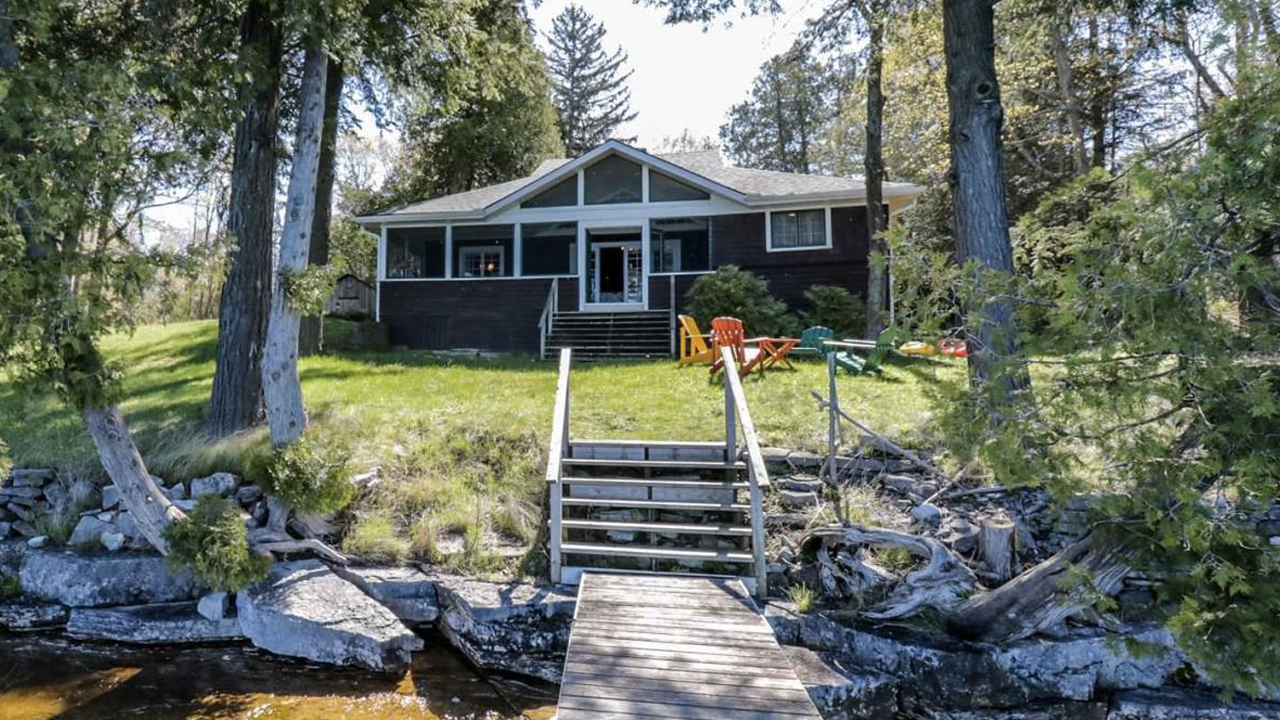 Why purchase Toronto real estate when you can call this private waterfront cottage home for the same price? Situated on a 1.33-acre property with 208 feet of private waterfront on Lake Couchiching, the home comes complete with cathedral ceilings and five bedrooms perfect for family get-togethers.
Built in 1850, this beautiful heritage home boasts 2.6 acres of land, a cozy wood-fire stove and original pine flooring. The inside of the home is chock-full of character and charming details, while the outside is a nature lover's dream featuring a bunkie, a gazebo and a picturesque wooden bridge over a creek.
With over 5,000 square feet of living space, a three-car garage and a ravine in the backyard, this home in London, Ont. is all luxury. Listed $50,000 above the average Toronto home price, the property boasts a great room with 17-foot ceilings, two walk-in closets, a chef's kitchen and more.
In the charming town of Picton in Prince Edward County, $1.7 million will get you this contemporary townhome overlooking the harbour. Since the home isn't built yet, you can work with the in-house designers to customize it to your liking, or stick with the original plan.
If you're looking to trade in the concrete jungle for an abundance of nature, this 4,200-square-foot Uxbridge property could be for you. The five-bedroom, three-bathroom home is situated on a six-acre property and comes with a fire pit, a screened-in back porch and a stunning in-ground pool.