To ring in Post City's silver anniversary, we asked Jeanne to select her favourite sterling and stainless pieces of arm candy, perfect for putting the finishing touch on any outfit.
WINNER:
VAN RIJK JEWELLERS
90 Eglinton Ave. E, $1,650
"I look at this bracelet and think of home. I've been wearing this bracelet religiously since I first got it. It was the first gift I ever got from Tiffany's — it just made me feel like Wonder Woman when I put it on. It says fashion and femininity and strength to me. I love it."
Hammer it out
MARK LASH
9033 Leslie St., #8, $210
"Mark Lash is one of our greatest homegrown jewellers. This is hammered silver — a very classic piece."
A pick for Parvati
JEWELLERY BY VAROUJ,
515 Eglinton Ave. W., $666
"This is an actual vintage piece from India, so it's got that old-fashioned closure with the pin. There's a great sense of exotica — it looks like there's a story to this."
Fringe appeal
PARLOQUE,
1093 Queen St. West., $900
"Wow! It's got a very organic feel to it; it looks like a sea creature. I could play with this for hours. A total original."
For the ladies
MAGWOOD,
886 Queen St. W, $247
"This is great. It's like one of those 'Diamonds Are a Girl's Best Friend' bracelets. Extremely feminine; very beautiful.."
Clean lines
PENWARDEN FINE JEWELLERY,
631 Mt. Pleasant Rd., $3,495
"It's a burnished steel so it's not too flashy. I absolutely love the jewels that are encrusted — tourmaline and actual diamonds. Gorgeous."
The underdog
S'WAG JEWELLERY,
Etsy.com, $165
"I love the whimsy of this little cuff—it's a long sausage dog wrapped around your wrist! Really cute."
Fit for Cleopatra
ANDREWS,
Bayview Village., $550
"This is almost like a piece of clothing. It'll fit just about any size of wrist, which is sometimes a problem with bracelets. There's something very Cleopatra about it."
Sweet salvage
COAL MINER'S DAUGHTER,
587 Markham Street, $38
"This is a fun piece especially knowing that it comes from Haiti. It's made from old oil drums—such an inventive way of recycling a material."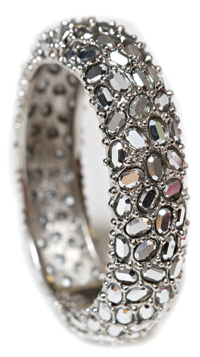 Puttin' on the glitz
HOLT RENFREW,
3401 Dufferin St., $450
"I love the dazzle of this. It makes a statement and it's playful."
Spiritual nature
HUNTRESS,
Thehuntresscollection.com, $900
"Just beautiful. It has a mystical quality to it that I really appreciate—there's a wonderful esthetic to this."
Chic n' cheap
THE SHOE COMPANY,
31 Disera Dr. #100, $19.99
"This very affordable little bracelet makes such a statement and gives you the right amount of flash.."
Jeanne Beker: One of Canada's most trusted authorities on style and fashion, Post City's fashion columnist and host of FashionTelevisionChannel has been covering the industry for more than 25 years.